Fourth of July Meals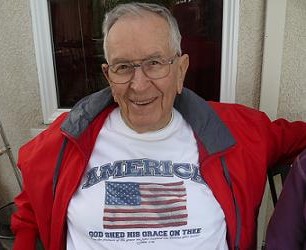 Fourth of July and food go hand in hand! As Americans, we celebrate our holidays with great food! On this holiday we celebrate actually being Americans and what that means! We dress our homes and selves with flags of our country and the patriotic colors of red, white, and blue! We gather, prepare a barbeque or picnic, and depending where we live, either watch or shoot off fireworks! Why do we do this? Is this holiday about gaining our independence from England or is there more to the story? (Pictured above: My Dad, Herb Smith, ready for Fourth of July!)
July 4, 1776, was actually the day that the Declaration of Independence was adopted by the Second Continental Congress. The revolutionary war was still being fought so we were still not free! Britain wanted to tax the colonies and we said "No taxation without representation". We declared our independence from Britain!
The first Fourth of July was celebrated in 1777, even though the war did not end until 1781 with American victory, followed by the final ratification documents exchanged in Paris on May 12, 1784! The Fourth of July became a holiday in many places. The celebrations included military events, speeches, parades, and the fireworks that symbolize the bombs of the war! The tradition continues to this day!
Our celebrations have changed little over the decades. We start our days with parades and end them with barbeques, picnics, and fireworks galore! Our celebrations center on traditional foods that remind us of our heritage!
---

Fourth of July Food
Most of us celebrate with:


Burgers, Hot Dogs, or Fried or Barbequed chicken!


Potato Salad or Macaroni Salad


Potato Chips


Apple Pie or a cake decorated in theme!
Can't get much more American than that! With the new "My Plate Guidelines" out this year, we could make a few adjustments to make our meal more health friendly. Our goal would be to limit our grain and protein choices to one fourth of our plate each, and fill our plate half full of fruits and veggies!
How about:
Barbecued Chicken


Potato salad with veggies mixed in and lower fat mayo


Veggie chopped salad


Varied Fruit plate with lots of red and blue fruits


Dessert of choice
Dessert might seem over the top, but "The Fourth of July" is a holiday and celebrations call for Dessert!
---

Fourth of July Music

The Video below, "America the Beautiful" by Ray Charles : Written by Katharine Lee Bates, a professor of English at Wellesley College , "America the Beautiful" was originally a poem penned on an 1893 trip from the East Coast to Colorado . The music of Samuel A. Ward, composed in 1882, was eventually fit to the words of Bates and "America the Beautiful" – as we know it – was born.
Though this song has been covered by a plethora of artists, Ray Charles's rendition is generally thought to be the most moving, the most memorable, and the one that does the song the most justice.


The next song is Lee Greenwood's "God Bless the U.S.A.". This new version has him singing with the United States Air Force Band!



Happy Fourth of July Everyone!


---

Facebook - Like This Page?

Facebook - Like This Site?