Produce

Fruit Tips and Vegetable Tips!

Eating enough produce daily just might be the biggest diet tip ever! Yeah, yeah, yeah! Most of us turn up our noses, and tune out. We know this, but those foods are so boring and life is short! We are too busy to do all the prep work that those fruits and veggies require! It's overwhelming!
It's much easier to just grab processed foods at the market, and at local restaurants we love! Problem is they are high fat and high calorie and our waistline is paying the price! Does that sound like you? Try these tips for home use, or when ordering out!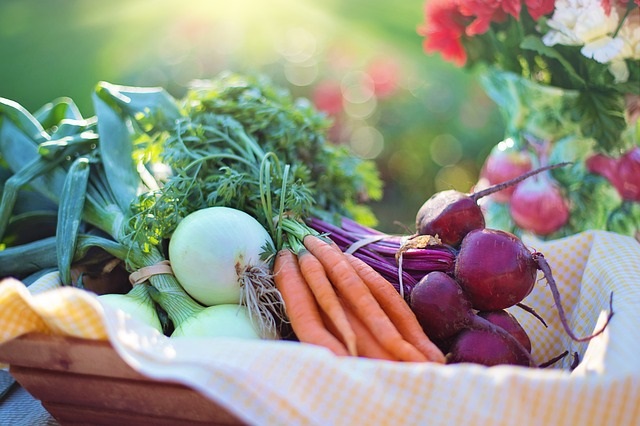 Lifestyle Solutions for Including More Produce in Your Diet:


Change your Thinking: A diet full of produce is the easiest way to control your weight! They are full of

fiber

, all things great for health, and nature's great diet food because they contain so few calories! The more you eat, the less you'll weigh! No special diet needed, just the real food!



Choose a salad or soup for lunch daily: This is such an easy tip. Even

fast food restaurants

offer side salads on their menu. Soups and salads contain lots of

fiber

which will fill you up. You will eat less. Choose salads that are full of vegetables and fruits, and eliminate the crunchy toppings which are more caloric. Choose a low fat or fat free dressing because they can turn an innocent salad into a diet bomb! Choose soups that are full of vegetables with a broth base and not a cream base! Many supermarkets offer vats of wonderful veggie soups for

lunches

!



Top Sandwiches with tons of Veggies: Get creative on this one. We all know the lettuce and tomato combo, but that is so unexciting! Try red and green peppers, onions, cucumbers, spinach, cabbage, green beans, zucchini, eggplant or any other vegetable that you can slice. Don't be afraid to request additional veggies on your sandwiches! Most restaurants will try and please every whim!


Choose Menu Items that are Full of Vegetables: There are so many

lunch

and

dinner

choices that are loaded with vegetables. Try to acquire a taste for

stir fries

. They are simple to prepare and once you have the basic idea down, you can vary your meat choice and choices of veggies. Buy a huge variety of veggies and choose 3 different ideas for a different stir fry daily. Pair them with different herbs and meats. The trick is to avoid overcooking any of the veggies, because crunchy is what you want. Cook the veggies separately. Rather than using oil, it's easy to stir fry by adding a bit of water. Keep adding more water to avoid burning! This is a quick meal that is much faster than fast food!



Fire up the Grill: Grilled produce is awesome. Chunk up different options and let your family fix their own Kebobs! This is a fun way to make a fast meal and get kids choosing unique fruits and veggies. Great ideas are peppers, onions, peaches, nectarines, melons, pineapple, zucchini, squash, eggplant, tomatoes, mozzarella balls, or any even lettuce! You are only limited by your lack of imagination! Vegetable combos steamed in foil packets are also amazing!


Snack on Fruits and Vegetables: Produce makes great grab and go snacks. Rather than purchasing sugary

processed

bars or fruit snacks that contain

sugar

as the first ingredient, simply grab the

real food

. Plan where you are going to eat your

snack

. If you usually eat your snack in the car, apples, bananas, grapes, dried fruits, peppers, carrots, or sliced cucumbers, are great choices. Who wants to wear the drippings of a juicy peach for the rest of the day or drive with sticky fingers! If you eat your snack at your desk, juicy fruits are refreshing!



Develop the Habit of Practicing Meatless Monday: This is a great way to start the week off right by fixing meals that are laden with fruits and vegetables! It helps to make up for any weekend overeating that you might have done! Find out more about

Meatless Monday

!





Practice the Half Plate rule for every meal out or at home: The new "

my plate guidelines

" recommend this, but this rule has been around a long time. It is such a simple way to eat. Eyeball your meal. Half of your plate should be fruits and vegetables, heavier on the veggies though. If you consistently eat like this, weight control will be easy. If you fill the rest of your plate with 1/4 lean

protein

, and 1/4

grain

that is it! Be sure and get the grains under control because that is where many of us fail too!



Visit your Local Farmers Market for Fresh Produce: Farmer's Markets are springing up everywhere. There is a movement to buy your food locally and to know your farmer. You can find out if he uses pesticides, (See

Dirty Dozen

list) and fruits and veggies are usually picked that day, so they are super fresh! Your whole car will smell like a farm on the drive home, which never happens driving home from the supermarket! Fresh products taste so much better too!



Be a great example! The best reason to include more fruit and veggies in your diet, is to teach your kids how to eat right. Kids who grow up living on them will continue those habits when they leave home.

Childhood obesity

is rampant in this country and we need to give our kids a fighting chance! See My

Healthy Kids

Section!!


Filling your meals half full of seasonal produce is the easiest tip that I know for weight control or weight loss! Consciously thinking and planning this is a healthy diet habit that will benefit you and your family!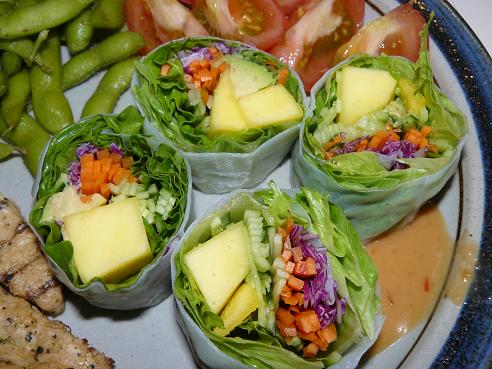 Seasonal Produce


Pages will be coming soon with information and tips on many of the fruit and vegetables listed below! (also....check out my Healthy Vegetable Recipes and my Seasonal Food page!)
Winter Produce


Belgian Endive
Brussels Sprouts
Buttercup Squash
Cactus Pear
Cardoon
Cherimoya
Chestnuts
Clementines
Collard Greens
Date Plums
Dates
Delicata Squash
Grapefruit
Kiwifruit
Leeks
Mandarin Oranges
Maradol Papaya
Oranges
Passion Fruit
Pear
Persimmons
Red Banana
Red Currants
Sharon Fruit
Sweet Dumpling Squash
Sweet Potatoes
Tangerines
Turnips

Spring Produce


Apricots
Artichokes
Asparagus
Barbados Cherries
Belgian Endive
Bitter Melon
Butter Lettuce
Cactus
Chayote Squash
Cherimoya
Chives
Collard Greens
Corn
Fava Beans
Fennel
Fiddlehead Ferns
Green Beans
Honeydew
Jackfruit
Limes
Lychee
Mango
Manoa Lettuce
Morel Mushrooms
Mustard Greens
Oranges
Pea Pods
Peas
Pineapple
Purple Asparagus
Radicchio
Ramps
Red Leaf Lettuce
Rhubarb
Snow Peas
Sorrel
Spinach
Spring Baby Lettuce
Strawberries
Swiss Chard
Vidalia Onions
Watercress
White Asparagus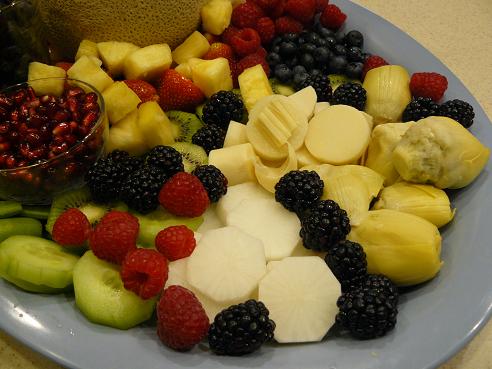 Summer Produce


Anaheim Chile
Apricots
Armenian Cucumber
Asian Pear
Barbados Cherries
Beets
Black Crowberries
Black Currants
Blackberries
Blueberries
Boysenberries
Breadfruit
Butter Lettuce
Cantaloupe
Casaba Melon
Champagne Grapes
Chayote Squash
Cherries
Cherries, Sour
Chinese Long Beans
Corn
Crenshaw Melon
Crookneck Squash
Cucumbers
Durian
Eggplant
Elderberries
Endive
French Beans
Figs
Galia Melon
Garlic
Grapefruit
Grapes
Green Beans
Green Soybeans (Edamame)
Hearts of Palm
Honeydew Melons
Jackfruit
Jalapeno Peppers
Key Limes
Lima Beans
Limes
Loganberries
Longan
Loquat
Lychee
Manoa Lettuce
Mulberries
Nectarines
Olallieberries
Okra
Ong Choy Spinach
Passion Fruit
Peaches
Peas
Persian Melon
Plums
Radishes
Raspberries
Rose Apples
Sapodillas
Sapote
Shallots
Strawberries
Sugar Apple
Sugar Snap Peas
Summer Squash
Tomatillo
Tomatoes
Watermelon
Winged Beans
Yukon Gold Potatoes
Zucchini

Fall Produce


Acorn Squash
Asian Pear
Barbados Cherries
Black Crowberries
Black Salsify
Belgian Endive
Brussels Sprouts
Butter Lettuce
Buttercup Squash
Butternut Squash
Cactus Pear
Cape Gooseberries
Cardoon
Chayote Squash
Chinese Long Beans
Crab Apples
Cranberries
Date Plum
Delicata Squash
Diakon Radish
Endive
Feijoa
Garlic
Ginger
Grapes
Guava
Hearts of Palm
Huckleberries
Jalapeno Peppers
Jerusalem Artichoke
Jujube
Key Limes
Kohlrabi
Kumquats
Muscadine Grapes
Mushrooms
Ong Choy Spinach
Passion Fruit
Pear
Persimmons
Pineapple
Pomegranate
Quince
Radicchio
Sapote
Sharon Fruit
Sugar Apple
Sunflower Kernels
Sweet Dumpling Squash
Sweet Potatoes
Swiss Chard
Turnips

Year Round Produce

Amaranth
Apples
Arrowroot
Apricots, Dried
Avocados
Bananas
Banana Squash
Black Eyed Peas
Black Radish
Bok Choy
Broccoflower
Broccolini
Burdock Root
Cabbage
Carrots
Cranberries, Dried
Celeriac (Celery Root)
Celery
Cherry Tomatoes
Chinese Eggplants



Coconut
Dandelion Greens
Gai Lan
Galangal Root
Kiwano
Leek
Lemons
Lettuce
Mushrooms
Olives
Onions
Papayas
Parsnips
Pearl Onions
Potatoes
Rutabagas
Salad Savoy
Snow Peas
Wasabi Root
Yucca Root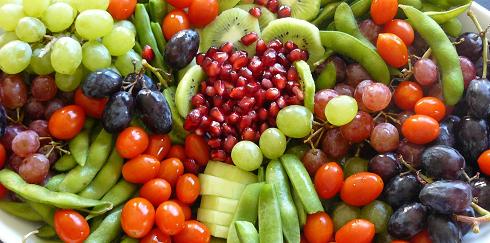 ---

Facebook - Like This Page?

Facebook - Like This Site?