Healthy Diet Habits Blog




....or Lifestyle Ladies Blog



Food is Everywhere! Obesity rates are soaring, and diets don't work long term. Whether you are eating emotionally, or mindlessly, Healthy Diet Habits can promote weight control and weight loss! Lifestyle Solutions, provides practical tips for healthy lifestyle changes!


The Healthy Diet Habits Blog will.....


Let you know whenever any new Web pages appear on the Healthy Diet Habits website. This is a new site, (as of Feb. 2011), so new pages will be added daily.


Give you my "Daily Tips" mini-blogs with practical tips to help you learn to develop Healthy Food Habits.


Keep those of you who live in the Seattle, Washington area, informed on the Lifestyle Solutions classes being offered.


Let you know when I send out the Healthy Diet Habits e-zine (in case you don't like to give your e-mail address, or if your ISP tends to over-filter causing you to miss an issue).


To subscribe to my Healthy Diet Habits Blog, (no e-mail address necessary), RIGHT click on the orange RSS button in the "Subscribe to This Site" Box at the bottom of my Navigation Bar on the Left Column of the Page, and then copy-and-past the URL of this site's RSS feed into your RSS reader. OR...
Or, click on the Google, My Yahoo!, My MSN, or Bloglines button, if you keep a personalized home page there. Follow their instructions.
If you are not sure what RSS and blogging is all about, click on the Question Mark (?)above the RSS Blog Buttons.
Once YOU start, YOU will be amazed at how RSS brings YOUR world to YOU!

You can also, follow my Blog on Facebook, through Facebook's NetworkedBlogs. Just click on the "Follow This Blog" button below.

*****
Oct 18, 2021
Fall Weight Loss Tips that Can Help You Prevent Holiday Weight Gain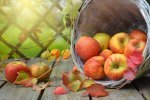 Fall weight loss tips may take a little planning, but can save you hundreds of calories per day which adds up to weight loss, rather than the dreaded holiday weight gain!
Continue reading "Fall Weight Loss Tips that Can Help You Prevent Holiday Weight Gain"
---

Facebook - Like This Page?

Facebook - Like This Site?