Kerry's Rant about Diet Statistics
This page is a personal rant by Kerry! I will say it once, give you some diet statistics to back it up, and then not rant again on this site ever! I promise!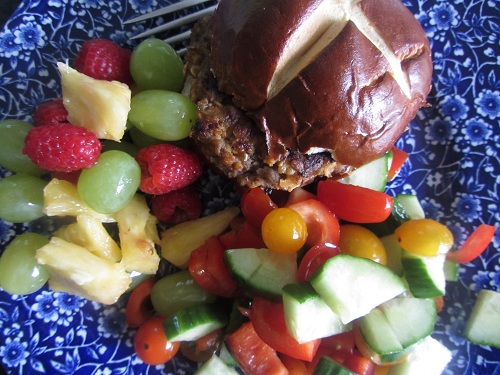 "If you're like most women, you probably rate your eating habits, somewhere between "really good" and "pretty good". According to a Gallup poll conducted by Weight Watchers, and the American Dietetic Association, 90 percent of women think their diets are reasonably healthy.
Almost all of them are delusional." That is a direct quote from the first paragraph in the book "10 Habits That Mess Up a Woman's Diet" by Elizabeth Somer. That quote has had a profound effect on me in the last 3 years. Are we delusional, as she suggests?
Look at the diet statistics facts that I will present, that have been gathered from various news articles in the past three years. Do you agree with her? And I may hint, how can you not after reading these diet statistics?


---

Time Magazine - Dec. 1, 2008 and June 23, 2008
If you're like 67% of all Americans, you are overweight or

obese

, and 17% of kids are overweight.




If you're like 96% of the population, you may not be able to recall the last time you had a salad, since you're one of the hundreds of millions of Americans who rarely eat a salad, or enough vegetables.




Experts fear that this generation of American kids, may be the first ever to have a shorter life span than their parents do.




The Journal of American Medical Association, found that the prevalence of overweight, and

obese kids

, in the 6 to 11 year old age group, has hit a plateau of about 32%.




In 1900, the average weight of a college male was 133 lbs., and a college female was 122 lbs. By 2000, the average college male weighted 166 lbs., and the average female weighed 144lbs.




In 1971, only 4% of 6 to 11 year olds were

obese

and by 2004, the figure had leaped to 18.8%. In the same period, the number rose from 6.1% to 17.4% in the 12 to 19 year old group and from 5% to 13.9%, in the 2 to 5 year old group. That is just

obese kids,

and when you add kids that are overweight, a whopping 32% of all American children carry too much weight.




Obese children

, are already starting to develop illnesses associated with people in their 40's and older like: heart disease, liver disease, diabetes, gallstones, joint breakdown, and even brain damage as fluid accumulation inside the skull leads to headaches, vision problems, and possibly lower IQ's.




A staggering 90% of overweight kids, already have at least one avoidable risk factor for heart disease, such as cholesterol, hypertension, or diabetes.




In 2000, the average child watched 40,000 commercials, double the number in 1970, and many of the ads were just the kinds of nutritional junk that is causing so many of our problems. The $2 billion plus yearly marketing budget of a company like Coca-Cola dwarfs even the $500 million, over 5 years spent on

childhood obesity

by the Robert Wood Johnson Foundation.



School Lunches have changed also:

1950's Lunch: - 936

calories

,

fat

33 grams 44%, Sodium 1291mg 57%



Today's Lunch:

Calories

1173,

fat

45.5 grams 61%, sodium 2064mg. 92%



With healthy changes school lunches could be: 648

calories

27%,

fat

25.4 34%, sodium 62%




Doctors have yet to find a weight-loss program that has proved effective and safe, especially for kids. Research consistently links

repeat dieting

to increased weight instead of lower ones




As many as 10 million women, and 1 million men suffer from an eating disorder. Nearly 90% of those, are under the age of 20, and females between the ages of 15 and 24, are 12 times more likely to die from anorexia, as any other cause of death.




In a study of 10,000 teens in Pediatrics, only about a third of females, and less than half of males were happy with their bodies.




A Harvard study released in April 2008, showed that being active can lower, but does not eliminate heart risks faced by heavy women. Assessing nearly 39,000 middle aged women over a period of 11 years, researchers determined that the odds for developing heart disease, were 54% higher in overweight active women and 87% higher in

obese

active women compared with normal weight active women. Women who were normal weight, but not active, faced an 8% increase risk. If you're overweight, or

obese

, you really can't get back to that lower risk, with just physical activity alone.
---

Washington Post

According to the Washington Post, nearly 57 million Americans are pre-diabetic. Another 18 million, have been diagnosed with diabetes, while 6 million more Americans have diabetes, and don't know about it. About 90% to 95%, have type 2 diabetes associated with obesity. One study estimates, that one out of every three children born in 2000, will eventually develop diabetes.


---

People Magazine - January 12, 2009
In 2009, People Magazine, asked 100 of their readers to food journal for four days. These are some of the diet statistics obtained from the results:
86% of people did not get enough fruit.




Participants who ate more often, consumed fewer

calories

.




93% did not get enough whole grains




92% did not get enough vegetables




67% ate no fish during the survey




95% did not get enough dairy




An average of 298

calories

were added to their daily total per restaurant meal eaten



They also concluded, that for every inch that our plates have grown, our butts have grown half an inch, and that food portions in the United States are typically 25% larger than in Europe.


---

These are some staggering diet statistics! Diets don't work for children. They copy us! Most of us, are not eating "really good" or "pretty good", and I believe that Elizabeth Somer is right in claiming that most of us are delusional based on these diet statistics!
I would encourage everyone to scour this site, and learn different ways that you can incorporate healthy diet habits, into your life, and make some permanent lifestyle solutions. Eat well for your health, and your families' health, but first you need to understand what that really means!

Elizabeth Somer's Book, "10 Habits That Mess Up a Woman's Diet", is one of my Top 10 Recommended Books! 


---

Facebook - Like This Page?

Facebook - Like This Site?