Beef Vegetable Soup
My Beef Vegetable Soup, is a very basic healthy soup recipe that is great, and is easy to make your own modifications as to what you love! People tell me all of the time that they wish that they could make great soup. I recommend that people make soup once or twice a week. Make huge pots so you have your lunches made for the week. I fill up small containers with soup for grab and go always!


*****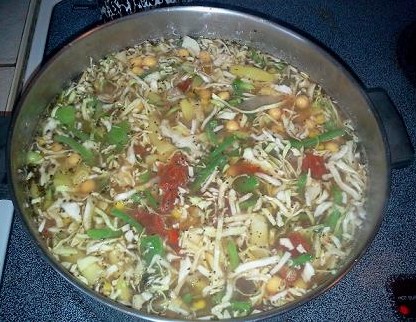 Here is the Recipe:


Fry these ingredients in a small amount of Olive oil until they are browned:
1/2 to 1 pound beef cubed


1/4cup chopped garlic (I use the pre-chopped garlic)


3 onions sliced


1 cup sliced or chopped celery


Then Add:


10 to 12 cups of water


1 pound of chopped cabbage (I buy pre-shredded)


1 pound bag Trader Joe's Duo Romano Beans (Frozen section, type of green bean)


1 pound Trader Joe's Soycutash (frozen section, corn, soybeans, red pepper)


1/2 pound Trader Joe's Haricot Verte (frozen section, green beans)


4 Grated or finely chopped zucchini


2 pounds of diced canned tomatoes


1 can garbanzo beans or bean of your choice. (you can add more beans if you want your recipe vegan or vegetarian and omit the meat)


1 giant bunch of cilantro chopped and added right at the end.


Season with salt, pepper and 1 to 2 T basil or if you have fresh use that instead. Fresh herbs make all of the difference. You can also experiment with adding cumin if you like that instead of the basil.


Simmer until it tastes done to you, around an hour. The meat should be very tender.
Enjoy!!




---
Go to Healthy Cookbooks

Go to Lifestyle Solutions

Return to Healthy Recipes

Return to Soups and Stews Recipes

Return from Beef Vegetable Soup to Healthy Diet Habits Home Page


---