Beef Vegetable Soup
My Beef Vegetable Soup, is a very basic healthy soup recipe that is great and is easy to make your own modifications as to what you love! People tell me all of the time that they wish that they could make great soup.
I recommend that people make soup once or twice a week. Make huge pots so you have your lunches made for the week. I fill up small containers with soup for grab and go always!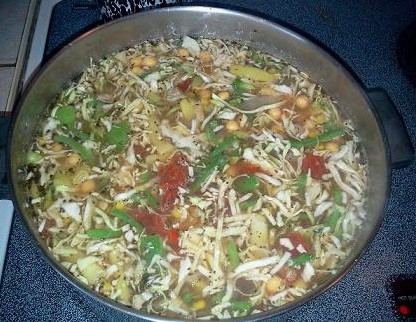 First Step - Fry These Ingredients

Fry these ingredients in a small amount of Olive oil until they are browned:
Then Add:
1 pound Trader Joe's Soycutash (frozen section, corn, soybeans, red pepper)
1 can garbanzo beans or bean of your choice. (you can add more beans if you want your recipe vegan or vegetarian and omit the meat)
Season with salt, pepper and 1 to 2 T basil or if you have fresh use that instead. Fresh herbs make all of the difference. You can also experiment with adding cumin if you like that instead of the basil.
Enjoy!!
---

Facebook - Like This Page?

Facebook - Like This Site?