Broccoli Salad


This broccoli salad recipe is one of my holiday meal favorites and pretty for Christmas or Easter meals. It's a simple salad recipe that I adapted from a pea cauliflower salad that uses bacon and cashews for crunch.
I never have cashews, and if I were to purchase a package, they would never last long enough to use in my salad. I always have sunflower seeds, and they make a great substitution and less pricey salad addition.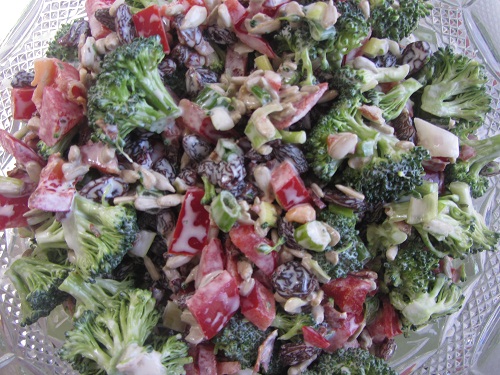 I cook bacon for holiday breakfasts so I always cook a few extra pieces for my salad. Purchase a quality refrigerated ranch dressing, and this recipe is not only simple, but outstanding and sure to be a crowd pleaser. My goal is always to bring a salad that puts the traditional carbohydrate recipes to shame!


*****

Ingredients for Broccoli Salad:


1 cup raw sunflower seeds
*****

Directions for Broccoli Salad:


Combine broccoli, green onions, red pepper, raisins and dressing and mix together.
Chill until ready to serve. Add the sunflower seeds and bacon right before serving to preserve their crunchiness.
This salad makes 12 servings.
*****
Serving more vegetables during meals is a healthy diet habit. I took this to my friend's house this past Easter, and she told me it was so good that she could just fill up on it, rather than the ham and potatoes. I agree that this is a great Holiday Meal Recipe!
Enjoy!

Check out these Related Pages:


---

Facebook - Like This Page?

Facebook - Like This Site?