Chicken Stir Fry Recipe with Cauliflower and Broccoli
Chicken stir fry recipe combinations are as numerous as your creativity. They all include chicken but could look completely different depending on your vegetable choices and what you serve them over or serve with them.
Preparing stir fries in general is a healthy diet habit to adopt and a quick way to cook. They encourage eating seasonal vegetables and fill you up with fiber, especially if you use lots of vegetables. They are a lower calorie meal plan, unless you douse them with oil, which I don't encourage! What is not to love?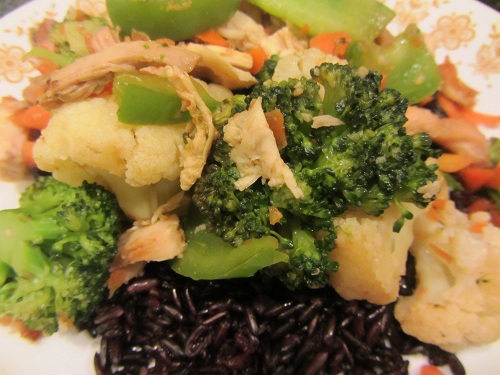 Ingredients in Chicken Stir Fry Recipe:


Chopped cilantro, basil, beans, or sunflower seeds (optional)
*****
Directions for Chicken Stir Fry Recipe:


Stir fry the chicken, garlic, onion, and ginger in a small amount of oil until cooked through. Transfer to platter.
Stir fry the cauliflower, broccoli, and carrots in about ¼ cup of water. Add more if necessary. It will cook quicker if you cover it.
*****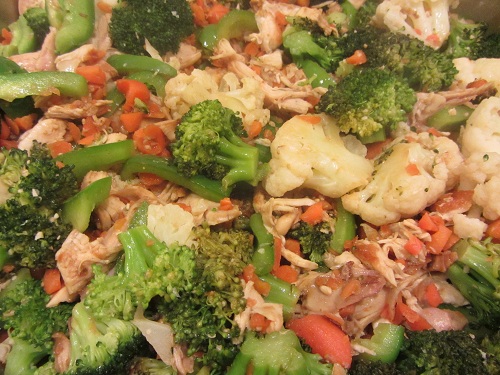 This chicken stir fry recipe is simple. You could add many variations according to your tastes. I love fresh herbs in all stir fries. Cilantro and basil sprinkled on top right before serving give gourmet flavor. If I leave them out, they seem lacking. I also often top them with either peanuts, or sunflower seeds for a little bit of crunch. That is the fun. The more creative you are, the more combinations you will devise in your quest for healthy cooking!
---

Facebook - Like This Page?

Facebook - Like This Site?