Corporate Wellness Classes for Weight Management
The purpose of Corporate Wellness Classes taught by Kerry Bacon and Cindy Lind of Lifestyle Solutions, is employee education, weight management, and decreased employer health care costs! Almost 70% of employees are overweight or obese! There are many health problems associated with this weight gain, which increase health care costs. Rather than continue to pay increased costs, we would like to offer 5 lunch classes that will help your employees learn lifestyle solutions to help with weight control, and overcoming unhealthy diet habits!
Each of these Corporate Wellness Classes is complete in themselves, with each class designed to fit into an hour long lunch period. They are practical, full of tips, and designed to help employees work through their personal problem areas. Homework will be given to encourage thoughtful, personal examination, and change! Teaching healthy diet habits is always our goal!
*****
Class 1 - Tips to Undiet


Class #1 Tips to UnDiet Diets Don't Work but Lifestyle Solutions Do!
This is the most general class that we offer. Simple tips will be offered in three main areas: Food, Habits, and Coping Skills. Employees will come away with many tips for change.
Why We Eat


Diet Statistics


Simple Lifestyle changes in Dealing with Food


Simple Lifestyle changes in Dealing with Food Habits


Simple Lifestyle changes in Dealing with Coping Skills


---

Class 2 -
Class #2 Emotional Eating and Meal Planning
This class will offer insights into emotional eating and tips to end emotional eating, plus meal planning tips that will help keep calories under control without dieting.
What is Emotional Eating


Emotional and Physical Hunger


Tips to End Emotional Eating


Meal Planning


---

Class 3 - Unhealthy Diet Habits


Class #3 Unhealthy Diet Habits
There are hundreds of unhealthy diet habits that have led to weight problems. Each employee will examine their personal history with food, and we will discuss a few of the biggest problem areas in weight control.
Understanding Your Personal History with Food


Thoughts


Mindless Eating


Portion Distortion


Your Eating Personality


---

Class 4 - Weight Loss by Lifestyle Solutions
Class #4 Weight Loss by Lifestyle Solutions
This class will discuss losing weight by making a few lifestyle solutions. Employees will be given a weight loss model to follow at home that will encourage slow change, plus many simple tips and tricks to lose weight.
Weight Loss Model


Eating Triggers


Journaling


Simple Tips to Lose Weight


---

Class 5 - Healthy Holidays


Class #5 Healthy Holidays
This class will offer tips for keeping your holidays healthy and avoiding holiday weight gain. Employees will develop a Holiday Food Plan to follow.
Healthy Holiday Tips


Understanding Holiday Weight Gain


Holiday Food Plan


Holiday Foods to Avoid


Healthy Holiday Cooking


Other
Corporate Wellness Program
options, include Lunch hour courses designed to fit your schedule and needs! The courses can range from 4 weeks to 12 weeks. Lifestyle Solutions also offers Private counseling for those employees that need extra help, tips, and encouragement!
---

Feedback from our Classes:


Comments we have received from our past Corporate Wellness Classes are:
Very informative and fun


It was all great, loved the combo of behavior and nutrition lessons.


It was at lunch time and free for employees-loved it. Great job.


More time, more weeks!


Have more of these on different days of the week.


Can this be an ongoing group/class?


Loved both instructors! Thank you!


Loved it-great job-just need more. Six weeks went by so fast!


I feel so much more positive and in control of my life because of the information I've gained in this class. I wish we could meet every week for support and new ideas. This has changed my life and will continue to do so.


I would love to see more of this type of program for employees.


*****

Lifestyle Solutions Contact Information: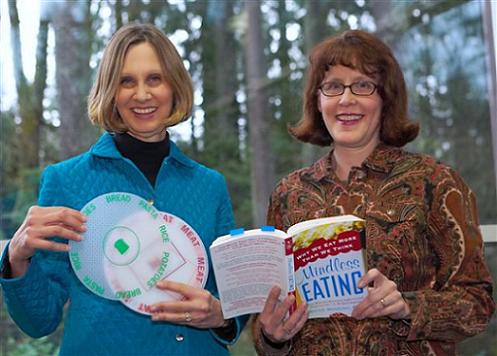 Cindy Lind and Kerry Bacon of Lifestyle Solutions


Our Contact information for the Seattle area:
Kerry Bacon: BS Dietetics and Food Administration


Cindy Lind: MS Counseling / Eating Disorders


Email: lifestylesoln@gmail.com


Website: http://www.healthy-diet-habits.com/
Kerry has worked hard in 2011, to set up the Healthy Diet Habits website as a support resource for class students to use. There are 300+ pages so far, and more pages are being added daily!


Facebook: http://www.facebook.com/lifestylesoln
Kerry set up a Healthy Diet Habits Facebook page in 2011, that offers lots of daily tips, recipes, discussions, and helpful information shared.


Twitter: http://www.twitter.com/lifestylesoln



We love what we do!
We love helping employees to make changes!

Please contact us if you would like to talk about scheduling any Corporate Wellness classes in the future!
---
Go to Lifestyle Solutions

Go to Weight Loss

Return to Corporate Wellness

Return from Corporate Wellness Classes to Healthy Diet Habits Home Page


---