Fair Food Tips
Fair food memories haunt you! Your local fair is a must for your family, but is it possible to resist the famous carnival foods and should you? Visions of funnel cake, fried onions, and various other diet bombs haunt you! Is the best
lifestyle solution
simply to avoid the fair or carnival in your state, or are there
healthy diet habits
that can help you navigate them, without spending a week's worth of
calories
? Remember that besides being high calorie, they are packed with
fat
,
sugar
and
salt
, with very little nutritional value. No such thing as
portion control
either!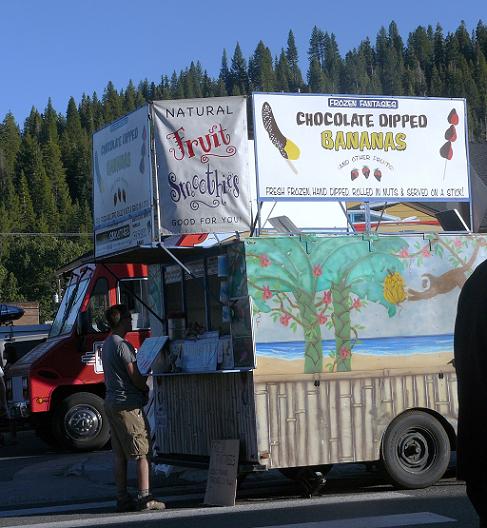 *****
Let's take a look at the approximate calorie count of some of your fair favorites:
Chili cheese dogs (500 calories)


Jumbo corn dogs (375 calories)


Regular corn dog (250 calories)


Funnel cake (760 calories)


12 oz. Icee (160 calories)


Frozen Lemonade (760 calories)


Turkey Leg (1135 calories)


Philly Cheesesteak (630 calories)


Gyro (680 calories)


Individual cheese pizza (670 calories)


Cotton Candy (625 calories) or small (171 calories)


Large Cinnamon Roll (730 calories)


Chili fries (700 calories)


Fried Sweet Potato Fries (750 calories)


Candied Apple (330 calories)


Chocolate Coated Frozen Banana (240 calories)


Nachos (860 calories)


Fried Mushrooms with Ranch dressing (560 calories)


Dippin' Dots (170 calories)


Snow Cone (270 calories)


Kettle Corn (600 calories)


Pop Corn (900 calories)


Crème Puffs (335 calories)


Fried Twinkie (420 calories)


Fried Snickers (444 calories)


Fried Onion Blossom (1329 calories)


Fried Dough (720 calories)


Onion rings (3 rings at 309 calories)


Soft Pretzel (340 calories)


Fried Oreo (98 calories)


Foot Long Hot Dog (470 calories)


Small Frozen Yogurt (340 calories)


Corn on the Cob without butter (180 calories)


Chili (280 calories)


Curly Fries (620 calories)


Belgian Waffles (650 calories)


*****
Healthy Diet Habits for Eating Fair Food are:
Avoid any food that is fried at the fair because let's face it fried foods and rides do not mix anyway!


Know your choices. Carry a copy of this list to use when you are tempted!


Plan your indulgences at home before you are lured into unconscious eating!


Allow one fair splurge. Plan your favorite so you do not deprive yourself!


Eat a healthy lunch or dinner at home. Never good to go to the fair starving.


Share fair treats with a friend.


Drink water only, as fair drinks are loaded with calories mostly from sugar.


Bring healthy snacks from home even if you leave them in the car.


See the fair, and save your splurge for the end of the time, otherwise you will be continually tempted.


*****
There are not too many healthy choices of carnival food, but life is not about
deprivation
. It is about
eating healthy
most of the time and sane the rest of the time. Enjoy a treat with your eyes wide open and practice sane eating in an insane place!
Happy Summer All! Enjoy the Fair!
---
Go to Lifestyle Solutions

Return to Top 10 Healthy Diet Habits

Return from Fair Foods to Healthy Diet Habits Home Page


---