Pumpkin Granola


Pumpkin Granola, has been on my mind since last year. I did not make it, but I thought about it. Last week I made a pumpkin cheesecake to share at an event I attended. I had 1 cup of canned pumpkin left. I have been looking at it in my refrigerator for the last few days pondering its fate.
Well I need granola, so I searched my healthy recipes and tweaked my existing granola recipe a bit. I've added flaxseed for the omega-3 fats, used maple syrup as that sounded nice with the pumpkin and added cinnamon too. I have the ratio of oil and sugar as low as they can go and still taste good.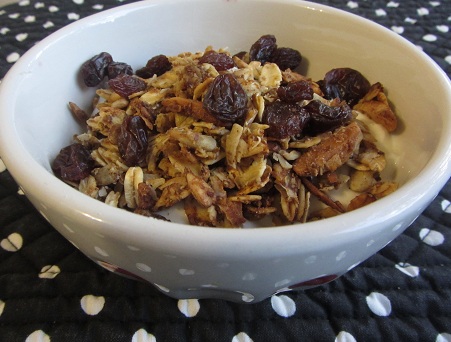 I often make granola for Christmas gifts. I find great bags, and serve family size servings. My friends all love it, rather than giving sweets, or candy. This year I am using this pumpkin recipe, and jazz it up with some colorful dried fruit! Giving healthy home-made gifts is a healthy diet habit that your friends will greatly appreciate!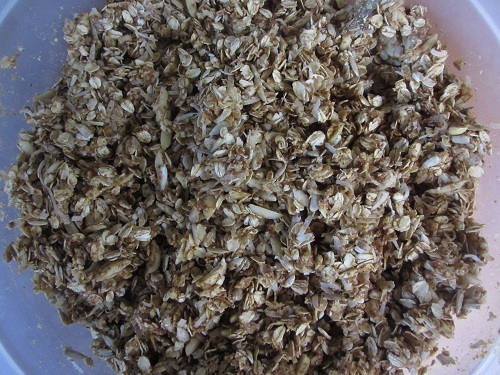 Ingredients in Pumpkin Granola


6 cups oatmeal

2 cups sliced almonds

1/2 cup freshly ground flaxseeds

1/2 cup oat bran

1 cup sunflower seeds

2 cups unsweetened coconut

1/2 cup canned pumpkin

1/2 cup maple syrup or honey

1/2 cup olive oil

2 t. vanilla

1 T cinnamon

2 cups raisins to add when cooled (optional)

Directions for Pumpkin Granola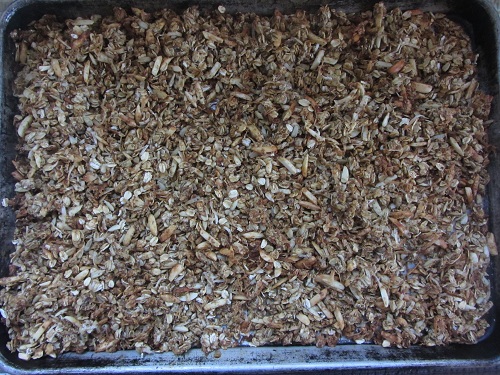 In one bowl add the oatmeal, nuts, seeds, bran, and coconut.

In a second bowl add the rest of the ingredients and heat them until hot in the microwave (2 minutes) Stir together until well mixed.

Pour wet ingredients over the dry ingredients and mix them well. Use hands if necessary.

Place on two jelly roll pans.

Bake at 325 degrees for half an hour, turning every 10 minutes until golden brown.

Cool and then add the raisins and store in a covered container.

Serve with milk or as a topping for yogurt or just by the handful!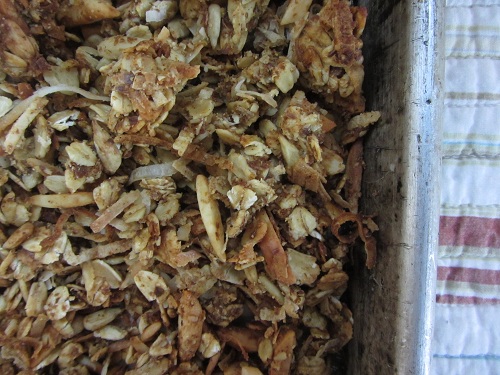 The cinnamon and pumpkin give this granola a nice flavor. We have been using it as a topping for Greek yogurt and it's a wonderful dessert treat too! Keep in mind that granola is on the caloric side. A proper serving would be one fourth to half of a cup. I usually leave a half cup serving cup in the cereal jar to remind everyone of the serving size.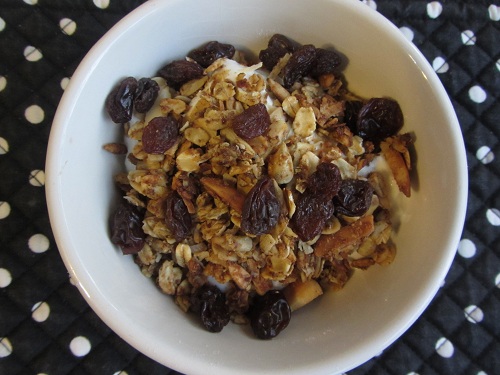 ---

Facebook - Like This Page?

Facebook - Like This Site?