Seattle Earthquake
 Emergency Preparedness Plan


A Seattle Earthquake is a very real possibility! Emergency preparedness in Seattle, Washington is a necessary lifestyle solution. Earthquakes are a significant threat to our well being. Very large earthquakes have occurred in Seattle, and they will happen again! We have the potential to have a "Big One." We have many faults in the Pacific Northwest, and these are known to produce earthquakes.
Three main sources for damaging earthquakes in the Seattle area:


Subduction Faults: "The Cascadia Subduction Zone" is a 1000 kilometer long fault where the Juan de Fuca Plate, and the North American Plates come together fifty miles off of the Seattle coast in the Pacific Ocean. This fault is said to have produced an earthquake between 8 and 9 in 1700. That size of quake will be catastrophic, and cause much damage to the Seattle, Washington area! This type of fault could also cause a tsunami. They usually occur every 200 to 1100 years. Do the math! Are you prepared?
Deep Faults: The second source of earthquakes is the Beioff Zone. These are the faults that are the result of the two plates coming together and the Juan de Fuca plate being pushed under the North American plate. Earthquakes from these faults could be up to 7.5 and are deep. This means that they are not felt as much, but are felt over a larger area. Are you prepared?
Shallow Faults: The third type of earthquakes we could see is shallow quakes from the American plate where we have many faults. The Seattle Fault runs east to west, from Issaquah to Bremerton. These quakes can be felt intensely if you live near the epicenter. To check out which faults run through your neighborhood check out the picture below! Are you prepared?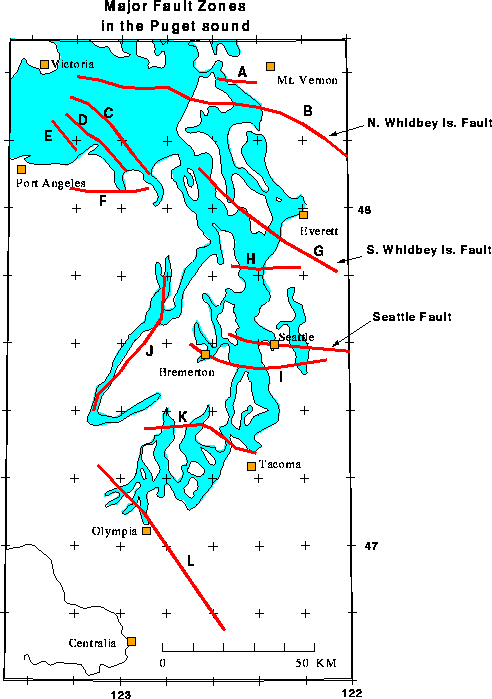 *****
A major Seattle earthquake could be dire. It could cause over 1000 deaths, and devastate the infrastructure of the city and surrounding area. Our bridges, areas built on soft soils, and brick buildings will all be vulnerable. It is important to prepare for an earthquake and have a family emergency preparedness plan, and the necessary emergency food and emergency water supplies for your family. Also to be included in your preparation would be car emergency kits, in each of your family vehicles in case you could not get home for a time.
Please either make your own homemade emergency supplies kit and car emergency kits, or purchase a ready made emergency kit. They are not that expensive and could literally save your life one day!
---

Facebook - Like This Page?

Facebook - Like This Site?