Sprouted Bean Salad Recipe


This sprouted bean salad recipe was a variation of the one that was printed on the back of the tru Roots Organic Sprouted Bean Trio bag. Never heard of this combination? Well I had not either, but I love trying any new legume blends. This one caught my attention because it was a blend of sprouted green lentils, sprouted adzuki, and sprouted mung beans! I grabbed a 3 pound bag at Costco, hoping I would love them.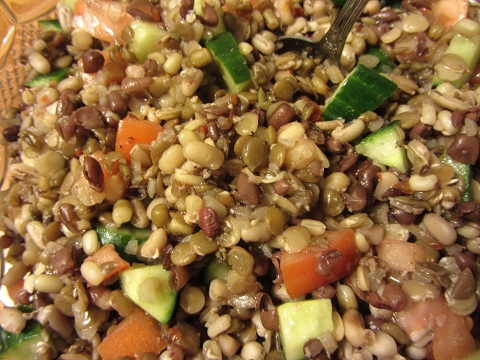 Fortunately, they are awesome and a healthy diet habit that will allow you to eat less meat! They cook quickly in 15 minutes, contain 11 grams each of fiber and protein per serving, and are a low-glycemic choice! Besides being quick, they are versatile.
You can use them with:
salads

rice dishes

pitas with greens and dressing

as a puree with olive oil like hummus

grain dishes

Tortillas and wraps with salsa and avocado.
You definitely will want to cook a good amount at one time to use as leftovers or to re-purpose into another meal!

Ingredients in Bean Salad Recipe


2 cups sprouted bean trio

6 cups water

2 chopped cucumbers

2 chopped tomatoes

1 finely chopped onion or several chopped green onions with tops

1 large bunch finely chopped cilantro

½ teaspoon cumin

½ cup olive oil

¼ cup fresh squeezed lemon juice

Salt and pepper to taste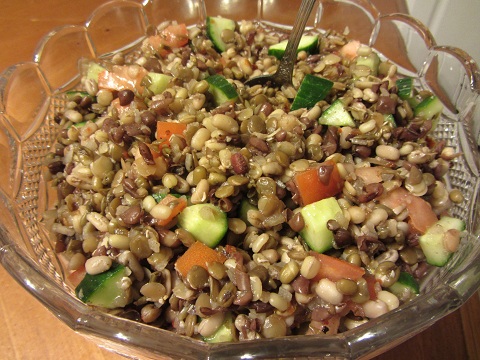 Directions for Bean Salad Recipe


Add the bean trio and water and bring them to a boil over medium heat. Reduce heat to low, cover, and simmer for 5 minutes. Remove from heat and let stand, covered for 10 more minutes. Drain, if needed. Let cool.

Combine the beans, cucumbers, tomatoes, onions, cilantro, olive oil, lemon juice, cumin, and salt and pepper in a bowl and toss well.

I actually used Trader Joe's fat-free balsamic vinaigrette, rather than the oil and lemon.

8 side dish servings or six main dish servings.
We ate this delicious salad as a main dish for a Meatless Monday meal! The protein count of 11 grams makes this a great meat substitute for any day of the week! It's a frugal choice and healthy diet habit to include more beans in your diet. They are full of fiber, which will keep you full and satisfied!
---

Facebook - Like This Page?

Facebook - Like This Site?