Bran Flax Muffins
Bran flax muffins are a great healthy breakfast choice when you feel like a treat, but want to keep nutrition in your diet. They substitute whole wheat pastry flour, flax, and bran, for the white flour and oil in the recipe, thus decreasing calories. The fiber, from the flax and bran, will keep you full until lunchtime. Allowing healthy treats in your diet is a healthy diet habit that will keep feelings of deprivation from overpowering you! You wont need to reach for the empty calories found in most processed muffins and donuts! This recipe makes between 15 to 18 muffins depending on how full you fill the muffin pans.
*****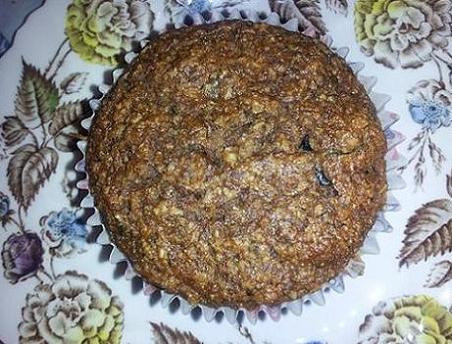 Ingredients in Bran Flax Muffins:


1 1/2 cups whole wheat pastry flour


3/4 cup flaxseed meal


3/4 cup oat bran or wheat bran


1 cup brown sugar


2 t. baking soda


1 t. baking powder


1/2 t. salt


2 t. cinnamon


1 cup unsweetened applesauce


1 1/2 cups grated fresh fruit (zucchini, carrots, or apples-your choice)


1/2 cups dried fruit (raisins, golden raisins, cranberry)


1 cup chopped nuts (your choice)


3/4 cup choice of milk or non-dairy milk (your choice)


2 beaten eggs


1 t. vanilla


Directions


Mix all dry ingredients


Add fruit and nuts to dry ingredients


Mix liquids together and pour them into the dry ingredients and still until they are moist. Do not over mix.


Line your cupcake pans with liners and fill 3/4 full of batter.


Bake at 350 degrees for 20 minutes until a toothpick inserted comes out clean.


*****
Life is to be enjoyed. Learning to cook
real foods
with healthy ingredients is a great
lifestyle solution
to adopt. Feel free to tweak this bran flax recipe in any way that you can! I love zucchini with golden raisins and walnuts!
Enjoy!
---
Go to Healthy Diet Habits Tips

Go to Lifestyle Solutions

Return to Bread Recipes

Return from Bran Flax Muffins to Healthy Diet Habits Home Page


---