Ham and Cabbage Stir Fry


This ham and cabbage recipe is a great addition to your weekly meal plan for many reasons. It's quick, and will take you less than 20 minutes to prepare. It's a great way to repurpose leftover ham from Easter or Christmas holidays. 
It's just a basic recipe that will allow you to add any other leftover vegetables or grains to extend it, but is great on its own. It's a recipe for those of you that can't get enough cabbage, which is a vegetable full of health!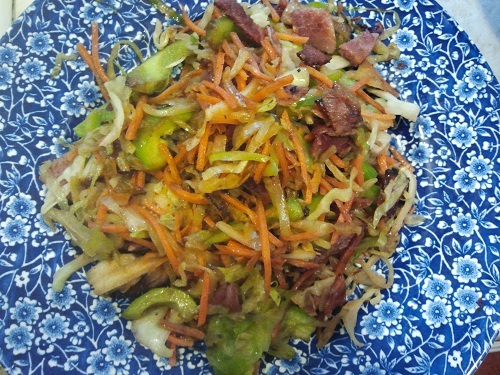 I freeze leftover ham in serving size packages when I bake a ham. This recipe allows me to grab a bag of ham from the freezer, grab a couple of bags of cabbage from the refrigerator, slice a couple of onions, and throw together a meal that is loved by my family. They do not realize I did not slave over the meal for more than a few minutes. I love easy meals like this!

Ingredients in Ham and Cabbage Recipe:



Directions for Ham and Cabbage Recipe:


Fry the ham, and sliced onions in a small amount of olive oil until they are slightly browned. Remove from skillet.

Add a bit more olive oil, and the garlic, cabbage, carrots, green peppers, and stir fry them until the vegetables are crisp tender to your liking.

Return the meat/onions to the skillet and salt and pepper to taste.
*****
This is a quick and easy meal. Serve it with a healthy grain and some fresh fruit and you have got a healthy meal on the table in no time! I usually make a large pot of rice, and freeze serving portions of brown rice for quick meals. Brown rice usually takes 40 minutes to cook, but this meal takes less time than brown rice, so I can simply unthaw a frozen package of rice. It's much cheaper to cook and freeze your own rice, rather than buying it done for you.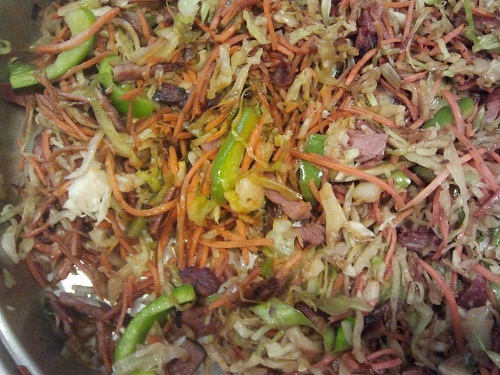 If I have no rice, I usually use quinoa or whole wheat couscous, because both of those options cook quickly and can be done when my ham and cabbage recipe is done! It's a healthy diet habit to have a few healthy recipes like this one in your collection when you are pressed for time and want to fend off the cries of your kids to go out for fast food!
---

Facebook - Like This Page?

Facebook - Like This Site?