Harira

Harira is the traditional tomato soup of Morocco that is full of garbanzo beans and lentils. It is simply the best soup that I have ever eaten, although I had to acquire the taste of cilantro! Moroccans make it all year long, but especially during Ramadan to break the fast. Each family makes their own version tailored to what they like, so this is my healthy soup recipe, with lots of cilantro and celery. There are many variations, so you can choose and use the ingredients that you love. I always loved visiting friend's homes and enjoying the differing versions of this spicy soup! Serves 8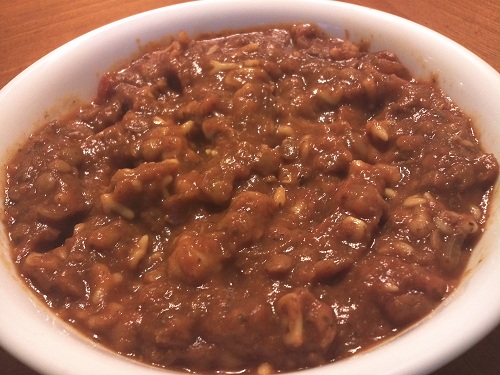 Overnight
Soak 1/3 cup flour in 1 cup of water (this provides a slightly sour flavor and thickening.) *If you forget to do this step the night before, you can add ½ t. yeast to the mixture to give it the sour taste or add a little more lemon to the soup.
Ingredients in Harira Soup
1/2 lb. lean chopped beef or chicken or lamb or vegan substitute

2 T. oil

2 large onions finely chopped

½ t. turmeric (for color) (Moroccans use saffron but pricey here)

1 T. ginger

2 T. paprika

1 ½ t. pepper

1 T salt or to taste

1/2 cup dry lentils

6 cups water

2 (16) oz cans of crushed tomatoes or (2 pounds of fresh tomatoes seeded and pureed)

1 huge bunch finely chopped cilantro

1 bunch finely chopped parsley

1 entire head of celery finely chopped

1 can garbanzo beans or (½ cup soaked overnight and remove peels)

2 to 3 T tomato paste (optional to thicken up the soup)

3 cups water

½ cup vermicelli or rice

Lemons
Directions for Harira Soup
Brown meat, chopped onions, and turmeric, ginger and paprika in a small amount of olive oil until browned.

Add 6 cups of water, salt, pepper, and lentils and bring to a boil and reduce to simmer. (If you are using fresh garbanzo beans add them now too).

Chop the celery, cilantro, and parsley and then blend them together in blender with the tomatoes until they are pureed together. Add to the soup. Cook for about an hour until the flavors are blended, and the meat and lentils are cooked. Stir often to stop the lentils from sticking.

Add the canned garbanzo beans (if using), extra 3 cups water mixed with the tomato paste, rice or vermicelli, and cook until the rice or vermicelli is done. Stir to avoid sticking.

Add the flour and water mixture that you made the night before, and the juice of one lemon and heat through until soup thickens.

The soup should be velvety, so add more water or flour to make it so.

If you love cilantro, you can add more chopped fresh cilantro and add it to the soup right before serving!

Serve this soup with extra chopped lemons to squeeze into the soup. Salt and pepper to taste!
Tips
If you do not like celery, you can leave it out.

If you dislike cilantro, leave it out and add more parsley.

Add a beaten egg or two at the end of the cooking and let it cook in the broth.

Substitute dried fava beans to the soup, rather than the lentils or garbanzo beans.

Use fresh tomatoes, rather than canned if you have them, or canned pureed tomatoes. Any type of tomatoes work!
Harira soup is a treat to serve with crusty French baguettes! Serve it with fresh dates and a chopped cucumber, roasted pepper, and tomato salad drizzled with balsamic vinaigrette. Top it off with a cup of sweet mint tea! This is a popular meal choice with our family because we lived in Morocco for eight years and it's our very favorite type of food! Healthy recipes centered on vegetables with just a little meat for flavoring don't need to be boring, but should be a treat. Blessings!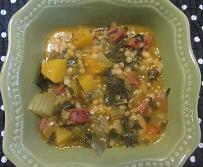 See my 7 Quick & Easy Soup Tips that will help you to prepare healthy soup recipes quickly! From the broth to vegetables, beans, whole grains, and meats. Find shortcuts to help!
---

Facebook - Like This Page?

Facebook - Like This Site?