Healthy Blueberry Muffins


These healthy blueberry muffins include egg whites, low fat buttermilk, whole wheat pastry flour, flax seeds, blueberries, and nuts. Healthy recipes should include healthy ingredients! Rather than doing without the foods that you love, simply modify them and upgrade the ingredients. This bread recipe is modified to include less fat, less sugar, no egg yolks, and whole wheat pastry flour, rather than white flour! You can eat them without guilt. Pair one with an egg and sliced fruit for a healthy breakfast.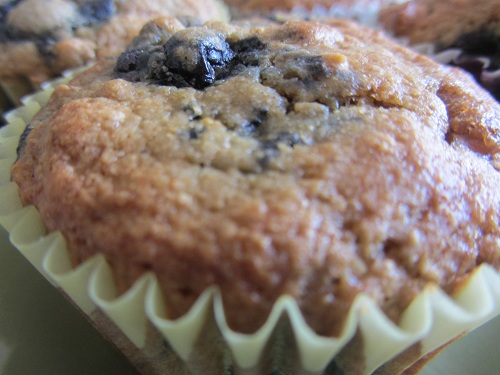 Ingredients for Healthy Blueberry Muffins

½ cup brown sugar

2 egg whites

1 tsp vanilla

¼ cup melted butter or oil

1 cup low-fat buttermilk

1 cup whole wheat pastry flour

1 cup oats

2 T ground flaxseeds

1 teaspoons baking powder

½ teaspoon baking soda

½ teaspoon salt

½ to 1 cup fresh or frozen blueberries

½ cup chopped walnuts or almonds (optional)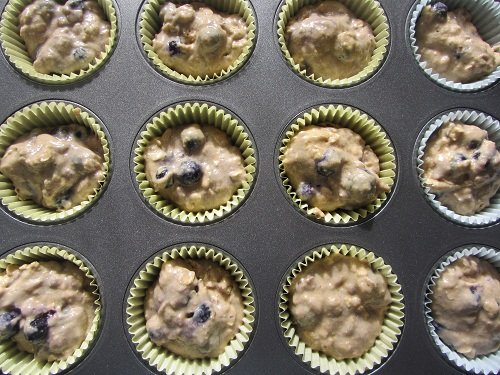 Directions for Healthy Blueberry Muffins

Preheat oven to 400 degrees. Put papers in muffin pans or lightly grease them.

Mix the brown sugar, egg whites, vanilla, oil, and buttermilk in a medium bowl.

In a separate bowl, mix the dry ingredients, flour, oats, flaxseeds, baking powder, baking soda, and salt.

Add the liquid ingredients to the dry ingredients and gently stir until just combined.

Fold in the blueberries and nuts.

Fill the muffins 2/3 full but do not overfill.

Bake 15 to 20 minutes until a toothpick comes out clean!
I love to include a breakfast treat every now and again, especially on the weekend. In our family, we limit excessive treats, but a breakfast muffin, on occasion, keeps the sweet tooth under control.
Adopting healthy diet habits still allows you to indulge in special treats. It's about lightening up traditional recipes and including healthier ingredients in the mix. It is not about constant deprivation which can cause you to crave the foods that you are depriving yourself of, but of learning to include them in your diet in a healthier way.
If you have a meal plan with a specific calorie plan for each meal, you can easily fit in the foods that you love! Life is too short to practice deprivation of the foods that you enjoy!
---

Facebook - Like This Page?

Facebook - Like This Site?