Healthy Chili Recipe
This healthy chili recipe is easy and great. It is stealthy healthy cooking, because it includes lots of veggies, stealthy healthy for kids that are picky eaters. You can use either ground beef, or make it vegetarian/vegan with no meat.
*****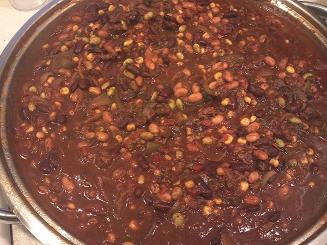 Ingredients for Healthy Chili Recipe
1 lb. ground beef (or chopped lean beef)




1 finely chopped onion




1 each finely chopped red and green pepper




2 (16 oz) cans of crushed tomatoes (or use fresh tomatoes)




2 cups Pico De Gallo fresh salsa




1/4 cup minced fresh garlic




4 finely chopped zucchini




2 cans kidney beans




2 cans black beans




4 T chili powder




salt and pepper to taste




6 oz. can tomato paste




3 cups water




1 huge bunch chopped cilantro (entire bunch)
Directions for Healthy Chili Recipe
Brown ground beef in skillet.




When meat is cooked, place it in a strainer and pour boiling water over it to remove excess fat. (Buy the lowest fat Ground Beef to start that you can afford).




Return beef to the pan, and add onion, peppers, garlic, tomatoes, salsa, zucchini, beans, spices, tomato paste and water and simmer for about a half an hour, until the veggies are tender.




Add chopped cilantro and cook for 5 minutes.



*****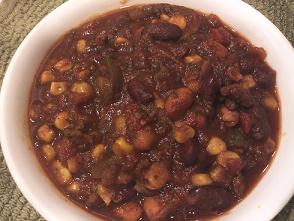 Serve and enjoy!


Additional Notes:
You could add a big bunch of chopped spinach or whatever veggie you have on hand. If you chop them fine, no one will know!




To save money, I buy the 6#12oz. can of SW crushed tomatoes at Costco and divide it into thirds, place in freezer bags and freeze them. This is much cheaper than buying separately canned tomatoes. I use this amount in most soup recipes and chilies. Canned tomatoes are over $1 for a 1# can, and the 6#12 oz. can is under $3. I save a lot of money doing this! Some things are not worth the hassle. This one is worth it!




We put the leftovers in serving size plastic containers to take for lunches. Add a bag of carrots and an apple and you have a

healthy lunch

!
---

Facebook - Like This Page?

Facebook - Like This Site?