Egyptian Lentils and Rice (Kusherie)


Egyptian Lentils and Rice, known as Kusherie, is a simple, healthy, and inexpensive dish. It seems a bit complicated, but it is not. You do need to use three cooking pans and multitask.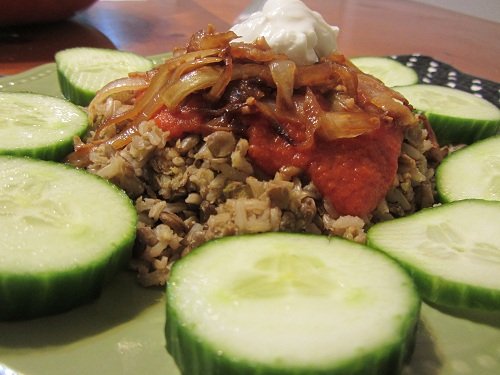 It's assembled in layers:
Layer one is lentils and rice seasoned with salt and pepper

Layer two is a very spicy tomato based sauce

Layer three is browned onions

Layer four is a topping of plain Greek yogurt
This is a nice main dish recipe choice for a Meatless Monday meal that is very filling. The original recipe was taken from a battered copy of More-With-Less Cookbook that I have followed for years.

Ingredients in Lentils and Rice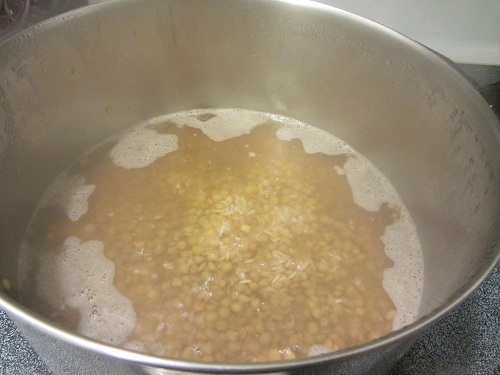 Rice and Lentils:
2 T oil

1 ¼ cup lentils

3 cups boiling water or stock

1t. salt

¼ t. pepper

1 ½ cup brown rice

1 cup boiling water or stock
Sauce:
1 6 oz can tomato paste

3 cups tomato juice, tomato sauce or pureed tomatoes

1 green pepper finely chopped

½ cup celery finely chopped

1 T. sugar

½ t. salt

1 t. cumin

¼ cayenne pepper or crushed chilies to taste
Browned Onions:
2 T oil

3 onions sliced

4 cloves garlic
Garnish:
Plain Greek Yogurt, Chopped Cucumbers or Chopped Mint

Directions for Lentils and Rice
In a large saucepan over medium heat, brown the lentils in the oil for about 5 minutes, stirring often.
Cook uncovered for 10 minutes over medium heat.
Stir in the rice and 1 cup water or stock.
Bring to boil, reduce heat, cover, and simmer for 25 minutes.
To make the sauce, add all of the ingredients together in a medium sauce pan.
Bring to a boil, reduce heat, cover, and simmer for 20 to 30 minutes.
Layer the rice-lentil mixture, pour sauce over the top, and top with browned onions.

 Top with a dollop of plain Greek yogurt, cucumbers, and mint if desired.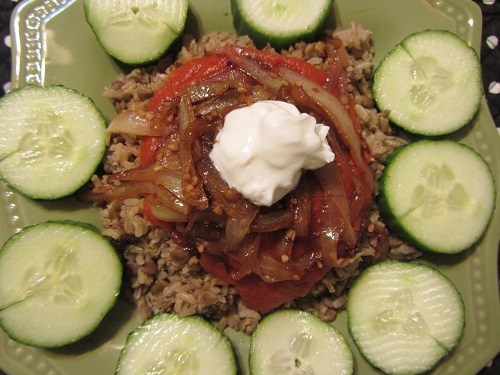 This is one of my favorite healthy recipes because it's completely different than my usual choices. It's tasty, and can be topped with chopped vegetables, if you desire. Chopped fresh, cucumbers, tomatoes, or mint are nice toppings.
I usually just slice cucumbers and surround each plate with them. It's quick and looks pretty. Adding a few meatless meals to your meal plan is a healthy diet habit to adopt.
---

Facebook - Like This Page?

Facebook - Like This Site?