Meatless Monday
Meatless Monday is a non-profit health initiative that encourages people around the world to go meat free one day a week for their health and the health of the planet! It encourages skipping all meat and cheese products for the day! It has become a quickly growing movement with over 50% of Americans polled having heard of it! It is a healthy diet habit to follow weekly!
Some facts you may not know about Meatless Monday:
It was recreated in 2003, as a public health awareness program run with Johns Hopkins Bloomberg School of Public Health's Center for a Livable Future. Its goal was to reduce dietary saturated

fats

and lower the risk of preventable diseases and bring awareness of the impact of our food choices on the environment.
Going meat free, can reduce your carbon footprint and conserve fresh water and fossil fuel.
Monday was chosen as the day for the campaign because it's the first day of the week, and a great day to re-evaluate choices and make

lifestyle solutions

.
Health benefits of going meat free once a week may be a reduced risk of chronic preventable diseases like cancer, cardiovascular disease, diabetes and

obesity

!
Meat free choices of protein include

beans

, legumes, eggs, nuts, and seeds.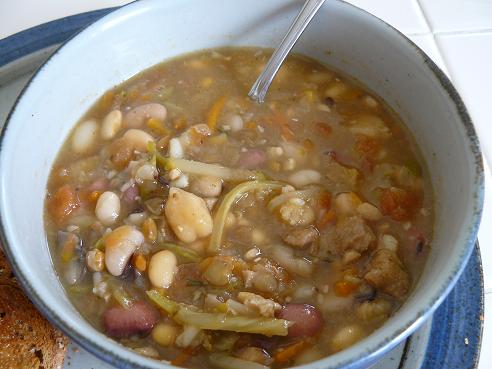 Vegan Veggie Bean Soup
Some meal planning ideas for Meatless Monday would include:
Make pasta with sauce filled with different veggies or garbanzo beans
Choose a veggie burger or black bean burger
Add nuts and seeds to the top of any salad along with any type of beans
There are many delicious recipes that are vegetarian, vegan, or just use your favorite meat recipes and substitute beans for the meat. You can also choose to purchase any of the vegan meat type products. There are so many wonderful new salad, veggie, bean, whole grain combinations that you can try! You will never miss meat! In fact, you might just find yourself looking forward to the lifestyle solution of Meatless Mondays to help counteract that Weekend Overeating that seems to pull you down!
Additional Info. on Meatless Monday
Please check out the Meatless Monday website for additional information and lots of meatless recipes: http://www.meatlessmonday.com
---

Facebook - Like This Page?

Facebook - Like This Site?