Zach's Gourmet Pizza Recipe


My son Zach's pizza making skills far surpass mine! He's attained gourmet status on this main dish recipe! He goes the extra mile to include delicious ingredients that require the creativity of a chef, rather than a recipe follower. The younger generation has taken an interest in cooking once again, rather than eating fast food! Such a great encouragement to see healthy eating habits and creativity with delicious food being valued!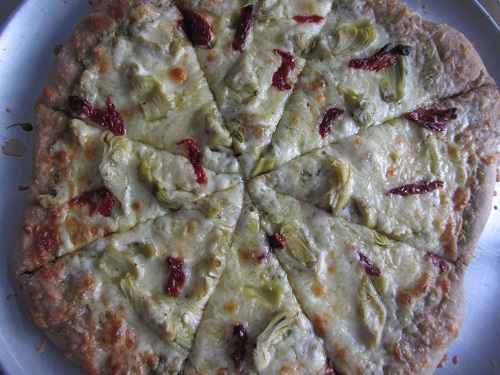 My son often chastises me for taking a short cut and never fails to notice when I do. As always, you could change up this main dish recipe in any manner that you please, but this will produce one delicious pie that will leave you wishing you doubled the recipe and had leftovers!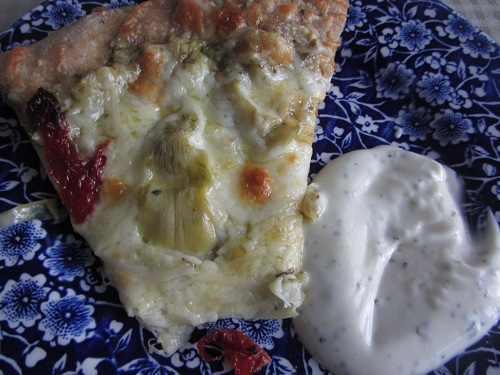 Ingredients for Pizza:


Trader Joe's Pesto in a jar (1/3 of a jar)
Trader Joe's fresh dough, regular, whole wheat, or herb
Trader Joe's fresh Mozzarella shredded cheese
Trader Joe's marinated Mozzarella log cut into 1/8 inch thick rounds
Trader Joe's marinated artichoke hearts, drain and pat dry to remove oil (1/2 jar)
Trader Joe's prosciutto, pepperoni, or salami, finely chopped
Fresh ranch dressing for dipping (optional)
*****

Directions for Pizza:


Prepare crust according to the package directions. I usually flatten the dough into a circle before I open the package. It's then easy to spread into a bigger circle. Be sure and let the dough sit on your counter for the recommended time. It spreads much easier. Place the dough on a lightly greased pizza pan.
Add the artichoke antipasto and pesto as the base.
Add the toppings you choose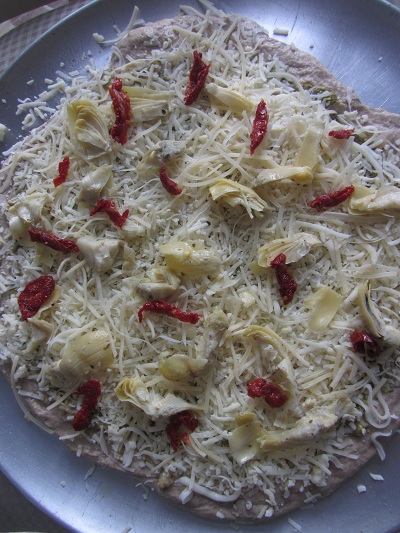 Zach recommends using your own creativity, but says it's best to remember the order: sauce, cheese, and toppings for the best final product. In a pinch I have used Ranch dressing mixed with pesto as the base and it worked well too. I also love Trader Joe's four cheese blend, but Zach prefers mozzarella and sometimes a little fresh parmesan paired with it. It's hard to find a bad combination with these ingredients. Have fun experimenting! You will be pleased with the outcome!
*For those of you who would like to prepare this recipe more frugally: Eliminate the prosciutto, and marinated mozzarella. I often use pepperoni or no meat at all.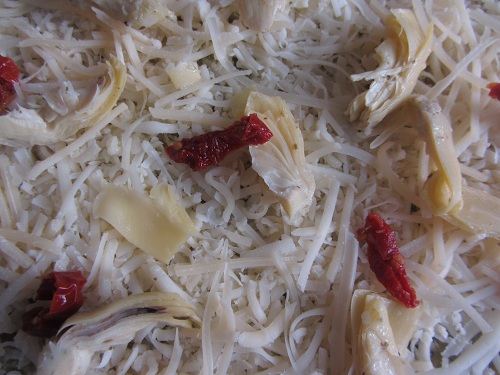 Enjoy this healthy Main Dish Recipe!
Share YOUR Main Dish Recipes:


Please share your healthy main dish recipes, and I will possibly include it, especially vegetable laden ones, that are low in fat. If your family loves a recipe that is healthy, others will enjoy it too!
If there is a way to make your recipe healthier by making substitutions, then I will make suggestions when I review YOUR recipe!
---

Facebook - Like This Page?

Facebook - Like This Site?