Pork Stir Fry Recipe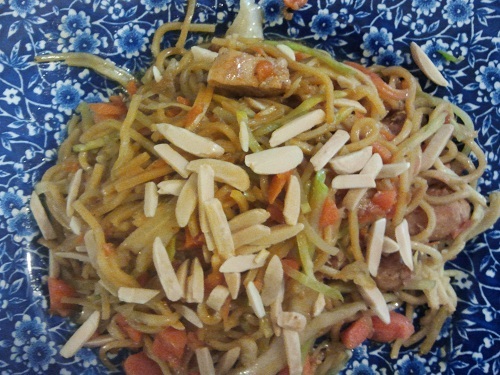 This pork stir fry recipe is a quick and easy meal that can be prepared in less than 15 minutes! It's a great lifestyle solution to have a growing list of these healthy meals available, because when you're tired and don't feel like cooking, it's easy to opt for fast food. This meal is actually easier than getting your family gathered, driving, ordering, eating, and driving home from fast food! The trick is to keep your refrigerator well stocked with a few prepared vegetables that work for the dump method of healthy cooking! If you love stir fries with brown rice this recipe does present a problem because brown rice takes 40 minutes to cook. Rather than wait on your rice, it's a great idea to cook a giant pot of rice and freeze family size portions that you can use with these quick meals! A little upfront planning can end the fast food habit!
*****
Ingredients for Pork Stir Fry Recipe
1 sliced onion



1/2 to 1 pound lean boneless pork-chopped in small pieces



2T oil of choice



1 12oz. package broccoli Slaw (Trader Joe's)



1 10oz. package shredded green cabbage (Trader Joe's)



1/2 10oz. bag of shredded carrots (5oz) (Trader Joe's)



1/4 cup minced garlic



1/4 to 1/2 cup water



1/4 to 1/2 cup Yoshida's Marinade and Cooking Sauce



1/4 to 1/2 cup chopped fresh cilantro (optional)



Sunflower seeds, or slivered almonds (optional)



---

Directions for Pork Stir Fry Recipe:


Stir fry the sliced onion and the chopped pork in oil until nicely browned. Remove from pan.



Add broccoli slaw, cabbage, carrots, garlic and 1/4 cup of water. Stir fry the mix for a few minutes, but it's best crunchy. Add another 1/4 cup of water if needed.



Add the meat mix back in and the Yoshida's sauce. Heat through for a couple of minutes.



Serve this by itself or over a 1/2 cup to 1 cup portion of brown rice.



Sprinkle with sunflower seeds, or slivered almonds for crunch, and chopped cilantro if you love it.



*To make this recipe vegetarian/vegan, substitute tofu or a vegetable sausage for the pork.
*Remember that 1/2 cup of rice is a serving size.
This pork stir fry recipe combination is fairly generic. You could substitute any vegetables that you have on hand or any meat that you enjoy. Many people dislike cilantro and I used to be in that camp. It's an acquired taste for sure. Herbs of any sort can be added to a stir fry and will take your recipe from delicious to gourmet! When I do not add herbs, I feel something is missing! They're that good!


Enjoy!
---
Go to Healthy Cooking

Go to Healthy Diet Habits Tips

Go to Lifestyle Solutions

Go to Meal Planning

Return to Stir Fry Recipes

Return from Pork Stir Fry Recipe to Healthy Diet Habits Home Page


---