Simple Stir Fry: Chicken/Brussels Sprouts/Green Beans
A simple stir fry is one that contains only a few ingredients and can be made in less than 15 or 20 minutes. Making stir fries often is a great lifestyle solution for weight control and increasing produce in your diet. It is so quick to whip up that you would never be tempted to choose fast food.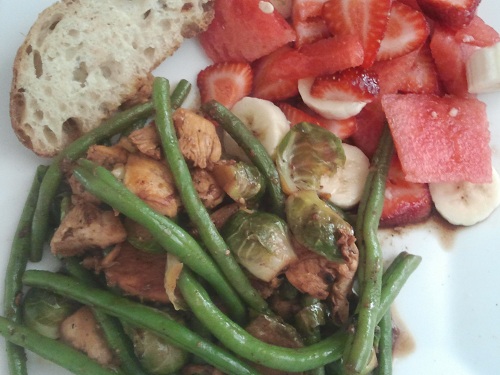 The best way to make a simple stir fry is to:
Choose a type of meat or vegan/vegetarian substitution or tofu
Choose a store bought sauce to use
This simple strategy has helped me pull off many great meals when time is short. I have no need to purchase any processed meals with this strategy. My refrigerator is always full of produce, so I always have many different options to choose from. I have tried to have a little fun with the idea along the way by including my kids in the mix. I pull out a bunch of vegetables and ask them to choose two that look like they might go together. We have had some interesting stir fries that I would not have thought of!
Here is a simple stir fry that I whipped up in a pinch.
Ingredients for Chicken Stir Fry with Brussels Sprouts and Green Beans 


Brussels sprouts cut in half or substitute cauliflower





Green Beans ends cut off





Chopped chicken





1/4 cup prepared garlic





Small amount of olive oil or sesame oil





1/2 to 1 cup Yoshida's Marinade and Cooking Sauce
Directions for Chicken Stir Fry with Brussels Sprouts and Green Beans


Cook the chopped chicken and garlic in a large pan, wok, or stainless steel electric skillet in a small amount of oil until nicely browned and remove to a platter.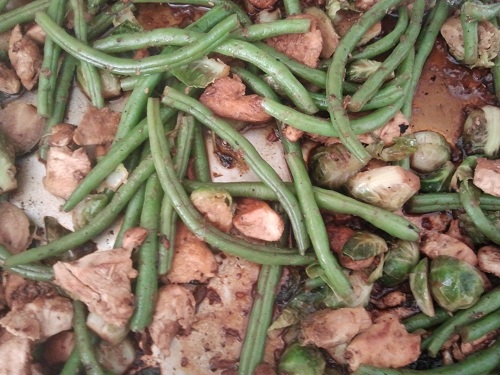 I did not even bother to make a grain for this dinner meal. I simply sliced a loaf of artisan bread, and quickly made a fruit salad of chopped watermelon, strawberries and banana.

The meal was quick, delicious, and included lots of healthy produce. Cooking simple stir fry meals is a healthy diet habit! 
---
Below is another variation of a green bean stir fry! If you don't like the Brussels Sprouts, substitute in the Cauliflower or another vegetable that you love!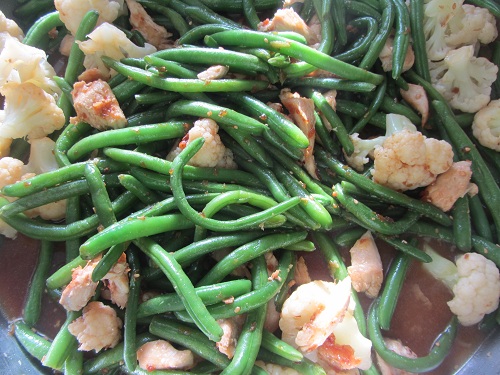 ---

Facebook - Like This Page?

Facebook - Like This Site?