Spaghetti Squash Recipe


This spaghetti squash recipe will allow you to keep pasta meals in your diet when you want a low carbohydrate treat that does not weigh you down with extra calories. With this type of healthy pasta recipe, you can fill your plate full! Many of you see this big yellow squash at your local market, but have never been brave enough to try one. Don't pass them by!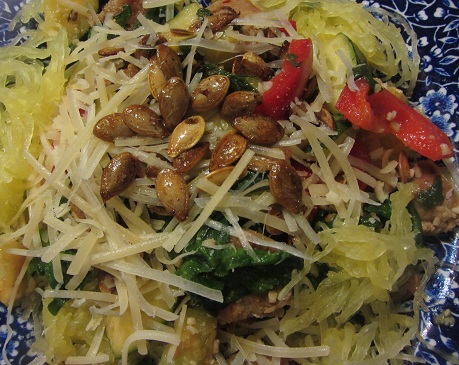 This recipe is simple and delicious, and will leave you wondering why you never made the substitution from grain pastas to this vegetable pasta before! It's a little different, but if you leave it al dente, it's very similar to regular spaghetti! Healthy diet habits are about making substitutions to healthier ingredients!
Ingredients in Spaghetti Squash Recipe
1 spaghetti squash cooked

1 12 oz package spicy chicken Italian sausage sliced in rounds

1.5 pounds zucchini sliced and quartered

2 red peppers sliced

6 oz bag baby spinach chopped

¼ cup prepared garlic

Parmesan cheese grated

Roasted spaghetti squash seeds for garnish (optional)

Directions for Spaghetti Squash Recipe


Sauce:
Brown Italian Sausage in oil until browned.

Add the sliced zucchini, red peppers, and garlic, and quickly stir fry them until still crunchy.

Add the spinach and stir fry until just wilted.

Place on top of the Spaghetti squash.

Top with grated Parmesan cheese and browned spaghetti squash seeds.
Cooking the Spaghetti Squash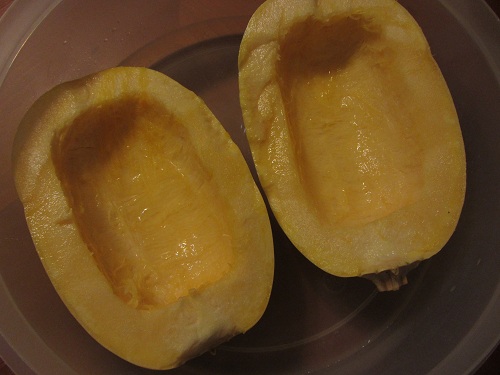 Wash and cut spaghetti squash in half lengthwise. Scoop out inside pulp and seeds with a large spoon. Remove seeds if you plan to use them for a garnish.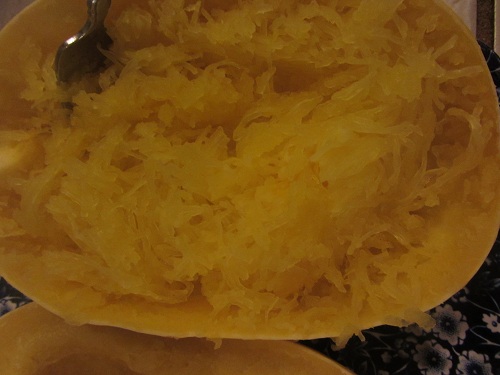 Place Spaghetti squash cut side up in a large container with 1/2 to 1 inch of water. Cover and microwave for 12 to 15 minutes until it is soft and pulls away from the side of the shell.
Remove the squash with a fork starting at the edges and pulling toward the center until it is all loosened. Gently remove and place on plate like spaghetti.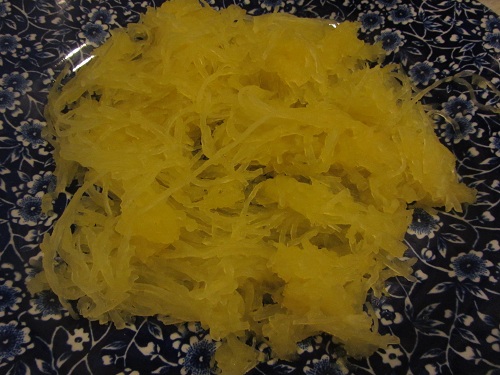 Directions for Seeds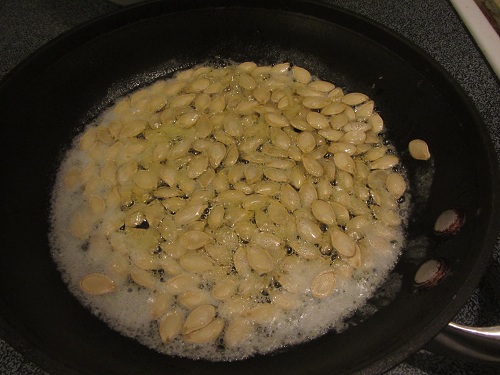 Add 2T butter, or olive oil to skillet and brown the spaghetti squash seeds, stirring often until nicely browned. Remove from pan and drain on paper towels and top with a bit of sea salt.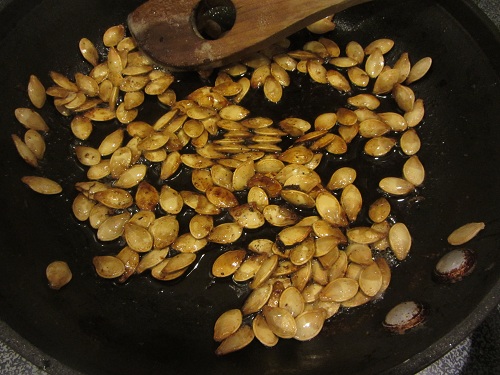 This spaghetti squash recipe was a simple quick meal that was a nice change to regular spaghetti. The topping of the seeds really made the meal. I cooked the squash just enough so it was still al dente. I don't think that there is anything worse than mushy squash. I did not tell my son that it was squash, rather than pasta and he did not like it. He much preferred pasta to the spaghetti squash. It was an experiment on my part, but I would do it again.
The squash was simple to prepare, and I had it cooking while I prepared the stir fry and fried the seeds. It was quick and I love healthy recipes that you can get on the table in less than 30 minutes with little fuss, especially ones that are so different!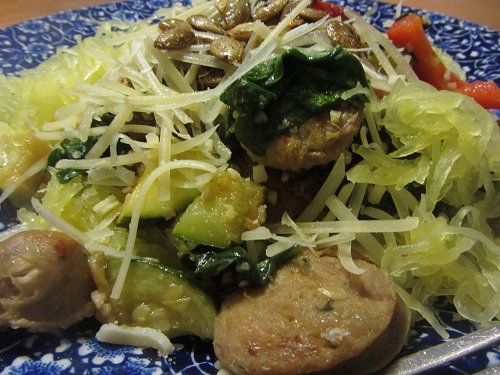 ---

Facebook - Like This Page?

Facebook - Like This Site?