Thai Tom Yum Soup


Tom Yum Soup is a spicy Thai soup. It's a quick soup that will only take about 15 minutes of preparation and 15 minutes of cooking time. It's great to make when you get home late from work, but want a meal that looks like you slaved for hours!
My husband caught his limit of 15 razor clams recently. He is our resident seafood chef, so decided to try his hand at making this soup using his fresh clams. Any seafood that you have on hand will work though! We looked at many recipes and chose the ingredients that we thought we would like best and experimented.
Ingredients in Tom Yum Soup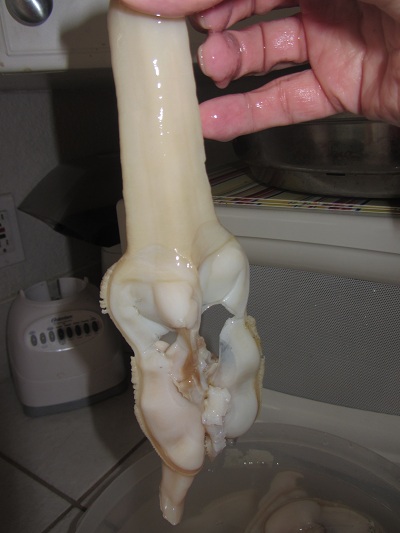 8 cups chicken broth

2 stalk lemon grass (chop the lower 1/3 of the stalk)

2 teaspoon lime zest

2 to 4 small finely chopped red chilies (I used Serrano peppers)

6 cloves minced garlic

8 oz shitake sliced mushrooms

1 cup cherry tomatoes

1 sliced green pepper

1 sliced red pepper

8 razor clams or 24 to 28 medium to large shrimp (approx. 2 cups)

4 tablespoons fish sauce

1 can coconut milk (shake well to mix in the can) (Add more if you like it creamier or to reduce the spices)

Juice from 1 lime

1 bunch fresh cilantro finely chopped (garnish)

Lime wedges (garnish)

Optional vegetables/herbs are: 1 cup Broccoli, 2 cups Baby Bok Choy, handful of fresh basil
Directions for Tom Yum Soup


Add chicken broth to a soup pot and heat on medium high.

Add the chopped lemon grass and also the parts of the upper stalk that you did not mince. Boil for 5 to 6 minutes.

Reduce the heat and bring to a simmer. Add garlic, chili, lime zest, and the mushrooms to the broth. Simmer for 5 minutes.

Add shrimp or clams, bell peppers, and cherry tomatoes, (broccoli, baby bok choy and basil if using). Simmer 5 to 6 minutes until seafood and vegetables are done.

Reduce the heat to low and add ½ can of coconut juice, fish sauce and lime. Taste. Add more chili or fish sauce if desired. If it is too sour for your taste, add 1 tsp brown sugar. If it is too salty, add a bit more lime.

Add extra coconut milk if you prefer creamier soup or it is too spicy.

Serve in bowls with fresh cilantro sprinkled on top and with a lime wedge!
We are not Thai food experts, but the soup tasted great to us. He did use two limes and I thought it was a bit too sour. I would use one lime and serve extra lime wedges on the side. Also next time I would add broccoli, baby bok choy, and basil, because I love healthy recipes and we just prefer more vegetables in our meals! This was a really flavorful healthy soup recipe though, and something completely different than we usually make. Tom Yum soup is sure to be a winner on cold nights when you need a bit of spice to warm you up. I would serve it with a salad and chunk of artisan bread. Enjoy!
You could also substitute tofu for the seafood, change the fish sauce to soy sauce, and use vegetable broth for a vegetarian/vegan option.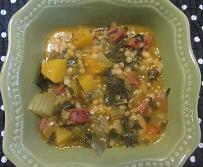 See my 7 Quick & Easy Soup Tips that will help you to prepare healthy soup recipes quickly! From the broth to vegetables, beans, whole grains, and meats. Find shortcuts to help!
---

Facebook - Like This Page?

Facebook - Like This Site?