Vegetarian Spaghetti Recipe


My Mom's vegetarian spaghetti recipe was the first pasta dish that I started making that was not traditional spaghetti with red sauce and meat. I had limited our spaghetti days, because I believed carbohydrates were to be limited, and pasta dishes were too caloric. This recipe is full of vegetables, pasta, no meat, and Parmesan or Romano cheese. It's a really tasty treat and a great addition for a Meatless Monday meal. It's a way to keep pasta in your diet. From her recipe, I ventured into making all sorts of creative pasta dishes using seasonal vegetables, and anything that I thought might go with pasta.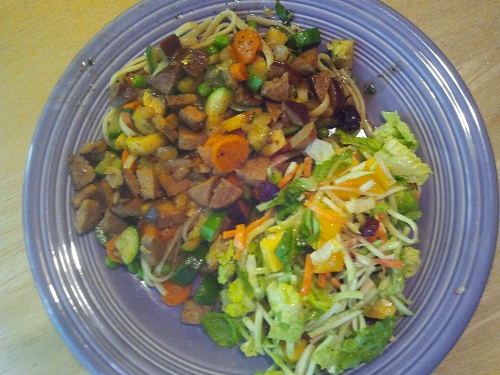 My Mom does not follow the healthy diet habit of making more food than you really need, so I always double this recipe and I would recommend doing that. I use the extras for lunch leftovers, which save our family a lot of money. We dislike sandwiches and prefer eating our largest meal at lunch. This dish is a welcome treat that lets us keep pasta in our healthy diet!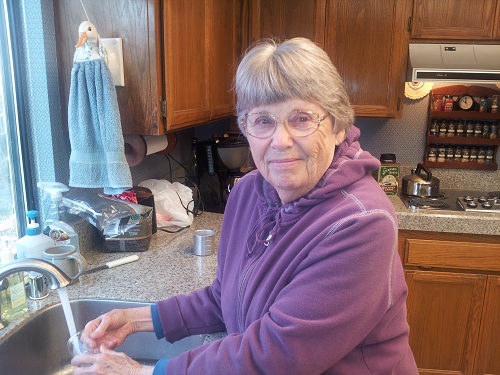 My Mom is the Best Cook that I know! This is one of her recipes!
Ingredients in Vegetarian Spaghetti Recipe
2 small zucchini (chopped)

2 small yellow straight neck squash (chopped)

2 small carrots (chopped)

1 medium size onion (chopped)

8 oz spaghetti, linguine, or fettuccini

3 T. olive oil

1/2 cup frozen peas

1/4 t. ground black pepper

1 14 oz can chicken broth

1 T. flour

1/2 cup grated Parmesan or Romano cheese

2 T. chopped parsley

Vegetarian Sausage or Chicken sausage (optional)
Directions for Vegetarian Spaghetti Recipe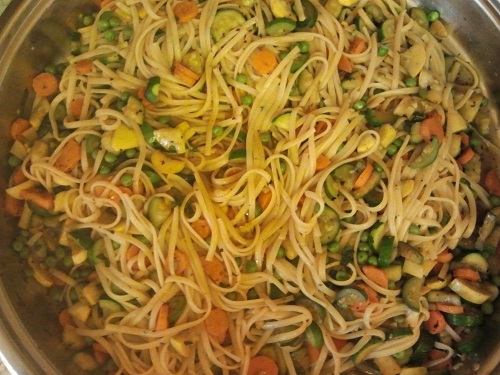 Chop zucchini, yellow squash, carrots and onion.

Prepare pasta according to package directions; drain. Return to saucepan and cover to keep warm.

Add olive oil to large skillet over medium-high heat, and cook onions and carrots, stirring occasionally, until vegetables are tender. Remove the carrot mixture to a bowl.

*If you want to add a vegetarian meat substitute or a meat for non vegetarian, you can stir fry it in a bit of olive oil and then remove it from the pan to the bowl.

Cook zucchini, yellow squash, frozen peas and pepper, stirring frequently, until crisp-tender. Return carrot mixture to skillet.

Mix chicken broth and flour together in a small bowl using fork to blend until smooth. Stir the broth mixture into the vegetable mixture. Heat to boiling and boil for one minute.

Add the vegetable mixture in the skillet to spaghetti; heat through. Stir in grated Parmesan cheese and chopped parsley.

Makes 4 main dish servings.
This is a really good vegetarian spaghetti recipe because you can substitute any seasonal vegetables available at the time. The only changes that I make are to double the recipe and to use the fresh herbs. My mom is not into herbs and rarely uses the fresh parsley, which makes the recipe better. Fresh chopped peppers or halved baby tomatoes work well with the original vegetables too.
I often vary pasta types. I love this recipe with linguine or fettuccine Linguine is flatter and wider than spaghetti and fettuccine are flatter and wider than linguine So for size purposes there is angel hair spaghetti, spaghetti, linguine and then fettuccine. Each pasta size makes the recipe seem a little different. I will use one of the bigger noodles, if I have already done a traditional spaghetti meal that week and my favorite is actually linguine. The original recipe calls for spaghetti though, and I think that is what most people are familiar with.
Healthy recipes and being a great cook is about making healthy substitutions, and using what you have on hand, whether that is different seasonal vegetables or noodle pasta sizes. My mom often adds chopped chicken sausages, but there are vegans and vegetarians in our family. When they visit, she will make the meal with no meat or serve stir fried meat on the side that you can add to your serving. My sister uses a meat substitute, but I love it just plain with no meat at all. It's all good though!
---

Facebook - Like This Page?

Facebook - Like This Site?