Blackberry Pie with Lemon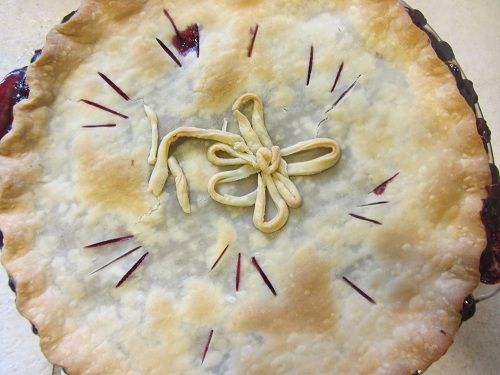 This blackberry pie recipe is delicious and juicy. Its my favorite pie that I bring to all holiday festivities. I have tried substituting quick acting tapioca to it to give it more structure, but I didn't like it nearly as well. Just know up front, you will need to spoon it out and it almost looks and presents like a cobbler. The lemon zest and lemon juice are the secret ingredients that turn this pie into a culinary delight. Store bought pie will never be acceptable again because this recipe is that good! Its always a healthy diet habit to bake at home though, so you do not have any unnecessary added ingredients!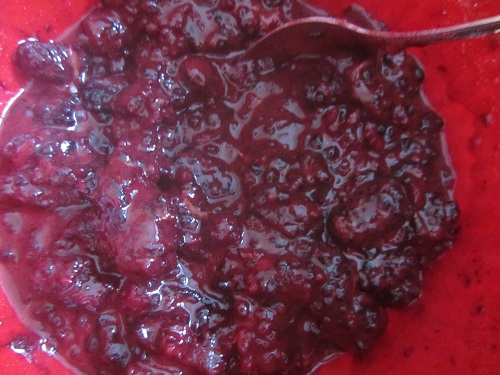 Ingredients in Blackberry Pie with Lemon
1 double crust (Homemade or Rolled Store Bought)

6 cups frozen marionberry blackberries (2 pound bag)

1 1/4 cups sugar

1/4 cup flour

2 Tablespoons corn starch (organic)

1/8 teaspoon salt

3 Tablespoons lemon juice

2 Tablespoon lemon zest

Vanilla ice cream (optional)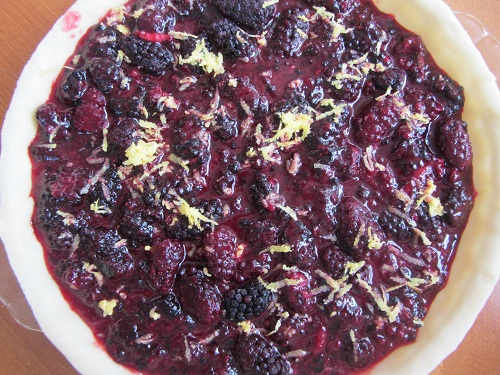 Directions for Blackberry Pie with Lemon

Mix dry ingredients well.

Add frozen berries. Gently mix until coated and all of the dry mixture is absorbed. The berries may need to melt quite a bit to absorb all of the dry ingredients.

Add lemon juice and zest. Gently mix.

Gently place into the bottom pie crust. Top the pie with the top crust. Flute the edges. Cut a few slices in the top crust for the steam to escape. I try to make the cuts even where it looks pretty! Decorate with little bits of crust that you have cut off from the edges of the pie.

Cook the pies for 45 to 55 minutes at 400 degrees until they are bubbling.

If the edges of the pies are browning at 30 minutes, cover them with foil.

Cool the pies completely before cutting.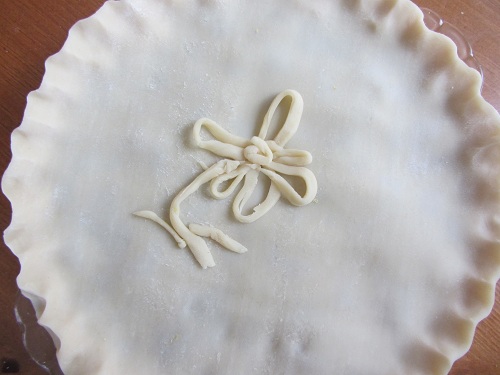 Baking your pies at home is a must. They really are much better than store bought pies. I love trying different dessert recipes, but this blackberry pie has stopped that habit. Whenever I say I want to make a new pie, I hear complaining. My friend told me this year that if I did not bring the berry pie to Thanksgiving, that I could not come! Her husband lives for it. It's a must for our holiday meal even though its not a traditional holiday pie at all. It's our tradition and no amount of baking other pies is going to change it! So I bake this pie year in and year out!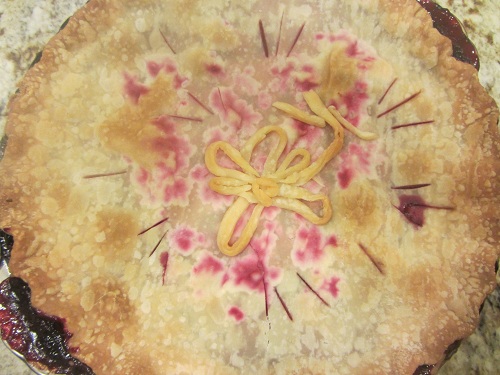 *Pie Crust Tip: If you purchase store bought pie crusts, do not buy folded crusts. They are difficult to handle and crack. Buy double crusts that are in pans or rolled versions. I actually find the rolled versions the easiest and they don't crack.
Tips for Pie Crusts purchased in Pans! Two crust pies come in two separate pans, so you can either make a single crust pie with no top or use the second pie crust as your top crust.
This pie is a double crust pie. Separate the pies. One crust should have a piece of paper on top of it, to prevent the pies from sticking to each other. Use this crust as the top crust of your pie. Turn the pie plate upside down with the paper on top and gently remove it from the pie pan. Lay the crust on your counter top, paper side down, and very gently flatten it. When you are ready to place it on top of the pie, slide a plate under the paper. Then gently tip the crust onto the pie and remove the paper and plate. Works great. Center the top crust as much as possible and cut off any excess crust from the edges. Gently squeeze the edges of the pie together all the way around. Crimp the edges and add slits.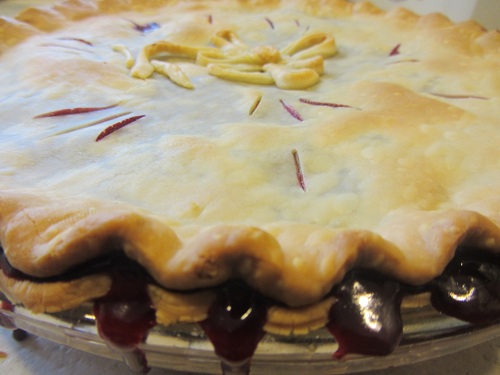 ---

Facebook - Like This Page?

Facebook - Like This Site?