Breakfast Casserole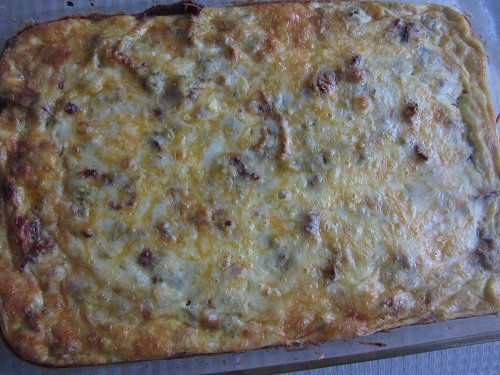 An excellent breakfast casserole is a great way to start a holiday when you want a nice breakfast, but don't have a lot of time in the morning to prepare it. You can prepare this before you go to bed, slip it into the oven when you rise, and 45 minutes later you've got a delicious simple meal. Serve it with a mixed fruit salad and a small blueberry muffin. This basic recipe is simple and you can substitute the type meat you enjoy or have on hand. I often use sausages rather than the bacon, if I don't feel like cooking bacon, and it is just as good. I rarely fix bacon so it's always a holiday treat. The beauty of this recipe is that it makes a 9 by 13 pan and is great warmed up as leftovers. It's actually a great healthy diet habit timesaver to prepare on the weekend for your weekday mornings for a grab and go breakfast too!
*****
Ingredients for Breakfast Casserole:


1 pound southern style hash browns



1 pound cooked and crumbled bacon



2 4oz cans of Ortega chilies



12 eggs



1 cup milk



Salt and pepper



Bunch Cilantro chopped (optional)



2 cups cheddar cheese or Mexican cheese blend



Other optional additions could be chopped peppers, salsa, black olives, fresh mushrooms, grated zucchini, sausages, regular hash browns, or chopped French bread chunks.
*****
Directions:
Layer the hash browns, bacon, chilies, and then one cup of the cheese in a 9 by 13 inch pan that is lightly greased.



Beat the eggs, milk, salt, pepper, and chopped cilantro until foamy.



Pour the egg mixture evenly over the hash brown mixture.



Top with the remaining cheese.



Cover and leave in the refrigerator overnight.



Remove from the refrigerator. Bake uncovered at 350 degrees for 45 minutes until the eggs are set and the top is nicely golden brown.



Serve with fresh salsa



*****
This is a very basic recipe that always turns out well. I have added chopped red and green peppers, sausages, salsa, black olives, and regular hash browns, and even chopped stale French bread, rather than the hash browns. All of my variations have been delicious! This is just one of those recipes that are difficult to ruin.


Enjoy!
---
Go to Healthy Diet Habits Tips

Go to Lifestyle Solutions

Return to Healthy Recipes

Return from Breakfast Casserole to Healthy Diet Habits Home Page


---