Brussels Sprouts Salad


Brussels Sprouts Salad is a creative way to use leftover Brussels sprouts. My son loves them. I never really figured out what all of the hoopla was about. Then I purchased a huge stalk of them and get it. They are so much better when purchased on the stalk; fresher and much sweeter. As long as you cook them quickly, rather than letting them hang around your refrigerator for days, they will be very sweet and awesome just sliced raw! They pack a powerful health punch so a great healthy diet habits addition.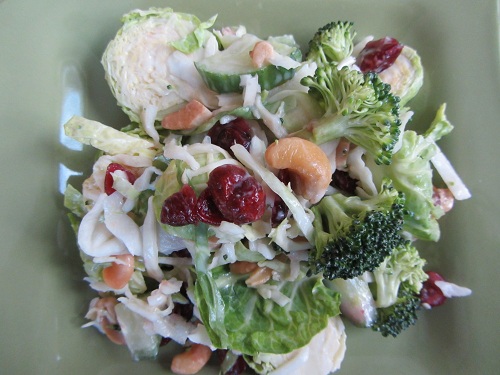 Part of healthy cooking is to be creative and try new ways of preparing foods! I have cooked Brussels sprouts in stir fries and soups, but this recipe leaves them raw. I was a little leery, but the salad remained crisp even for lunch leftovers. There is lots of room for creativity. You could add any chopped produce that would pair well with the combination, or remove the cranberries and add a different dried or fresh fruit that you love.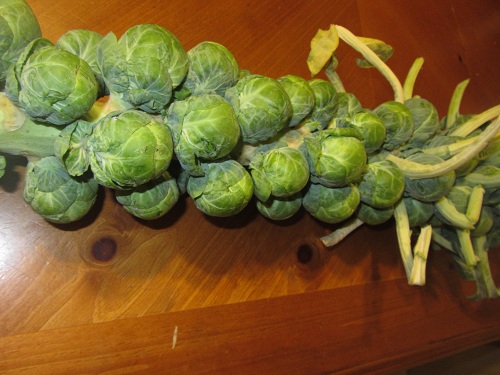 Ingredients In Brussels Sprouts Salad


2 cups fresh Brussels sprouts sliced in fourths

2 cups chopped green cabbage

2 cups chopped cucumber

2 cups chopped broccoli

Garnish with cashews and cranberries (optional)
Poppy seed dressing:
1/2 cup buttermilk

1/2 cup Greek yogurt

2 T honey

1 T lemon juice

1 t. poppy seeds

Directions for Brussels Sprouts Salad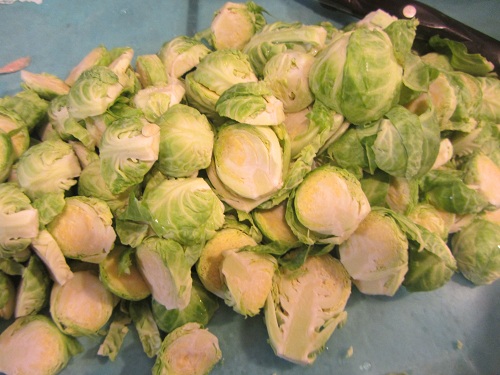 Add the sliced and chopped vegetables together in a large bowl.

Add the dressing ingredients in a separate bowl and blend with a wire Wisk until smooth.

Drizzle the dressing on the salad.

Top with cashews and cranberries right before serving.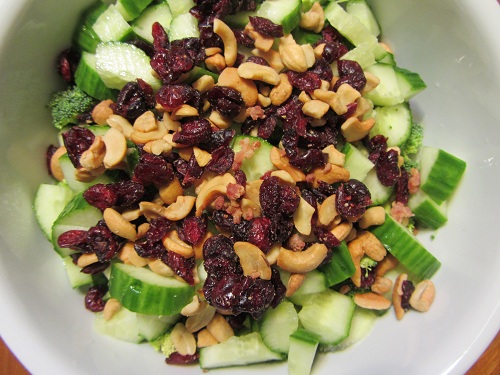 This was a very crunchy salad that was great for lunch leftovers the following day. I did not put all of the dressing on the salad, because I knew I would have leftovers. There is nothing worse than a mushy salad lunch. We each added dressing at dinner. I would also advise adding the toppings right before you plan to serve the salad, so the nuts will remain crunchy.
Very pretty salad that would pair nicely with a holiday meal. It's different than the same old salad recipes, and one to be included in your healthy recipes collection for sure!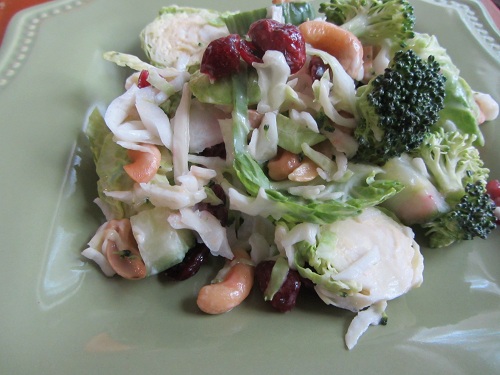 ---

Facebook - Like This Page?

Facebook - Like This Site?