Buckwheat Pancakes


Buckwheat pancakes are synonymous with childhood for me! Growing up, my grandparents made them every single Saturday. Actually they made two batches, one regular buttermilk pancake batch for my grandma, and one buckwheat mix for my grandpa. They could not agree, so they made both! I was always on my grandpa's side, so the two of us enjoyed these each Saturday!
My grandma was milk intolerant, but could tolerate buttermilk. Treats from childhood stick with you forever. This happy memory involves a lot of laughing while breakfast was made, eaten, and the dishes hand washed afterwards! My grandparents are both in heaven now, but I continue their tradition. Recipe makes 16 pancakes.
Ingredients in Buckwheat Pancakes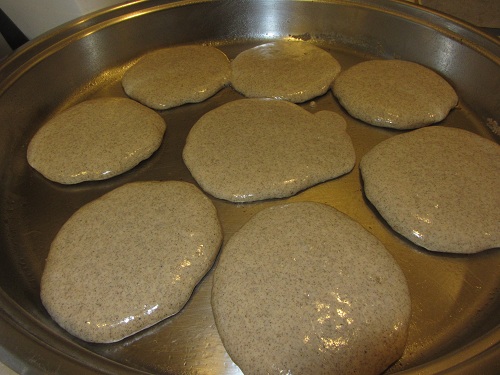 Directions for Buckwheat Pancakes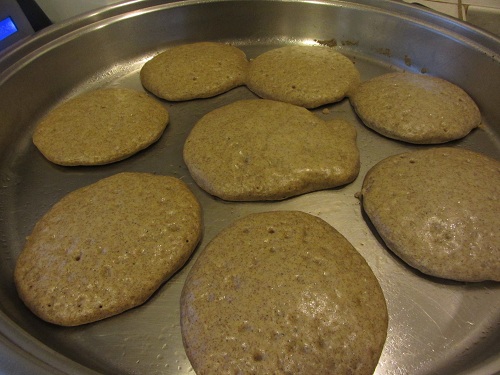 Spoon flour and buckwheat into cups and level them off with a knife and add them to a large bowl. Add sugar, baking powder, soda, and salt. Stir them together.

Combine buttermilk, eggs, and oil and beat them until blended with a fork.

Add the dry ingredients to the wet ingredients and stir until moistened.

Heat an electric stainless steel skillet to 350 degrees or use non stick griddle. Use cooking spray and drop pancakes by 1/3 cup increments.

Pancakes are ready to turn when the tops are covered with bubbles. I remember my grandpa using the spatula to pop the bubbles in the middle of the pancakes. If the hole stayed, the pancakes were ready to turn. If the batter filled in the hole, cook a bit more before turning.

Serve with syrup, jam, honey, or fruit.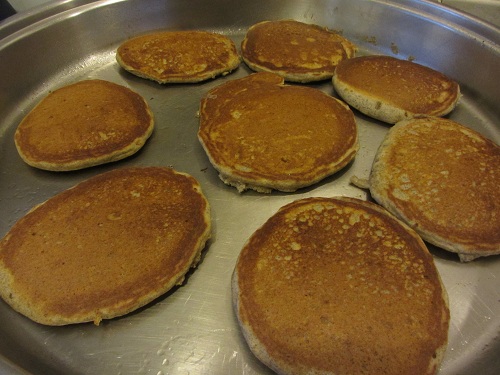 These pancakes rise to perfection, and many recipes that I have tried don't. I actually could not find one that I loved, so I just kept fiddling with ingredient amounts over time. These rise and are delicious!
My next batch, I want to add pumpkin and pumpkin pie spice! If that works I will post how I did it! Upgrading ingredients in your healthy recipes is a great healthy diet habit to follow. Keep the recipes that you know and love, and add healthier ingredients.
---

Facebook - Like This Page?

Facebook - Like This Site?