Fathers Day
Fathers Day
is a day that we give honor to our Fathers for all they have done to make our lives wonderful. It is a day to show them a little love in return, although they deserve it every day. Fathers Day always falls on the third Sunday in June, so the date usually changes yearly. Most other traditions remain the same. Many people send their Dad a card or small gift that shows their love. Kids lovingly share their handmade cards with Dad. My Dad recently returned some of mine! Priceless! Many simply call home to honor Dad.
Others use this day, as a day to get the entire clan together. Dad, Grandpa, Gramps, Fathers-in-Law, or any man in the family with kids, is celebrated. A great meal and gab time are a sure bet! Stories abound!
Share YOUR story about YOUR Dad below! (coming soon!)


I Love this video about Dad's!!
---

Fathers Day for the Fatherless


A new lifestyle solution to adopt is to share your Father's Day celebration with a fatherless family. These are many kids who are fatherless! Divorce, death, deadbeat, or serving our country! Adopt a fatherless family to share your Father's Day celebration and let them share their Dad stories or become a part of yours!


---

Fathers Day Meals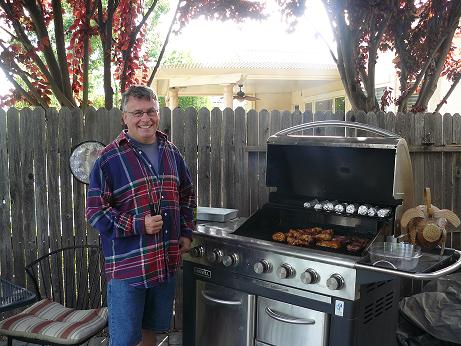 My brother, Scott Smith, grilling for a family get together.


Family traditions may be a bit different, but most of us prepare "Dad friendly meals" full of "dude food". These are foods that men love and not necessarily a healthy diet habit! You know what I'm talking about. Meat, meat, meat! Fire up the barbeque and Dad will be happy. Give him a variety of his favorite meats and he will be in hog heaven, whatever that is. Most meals that are dad-friendly are also a carbohydrates love fest: barbeque meat, potato salad, macaroni salad, corn, baked beans, garlic bread, and maybe a pie for dessert. I am stuffed just thinking of this combination.
Let's give Dad a few new favorites, to add to his Dude Food repertoire, that are healthy additions. Would it be possible to prepare a great meal that included meat, healthy grains, and a plate half full of veggies and fruit, like the USDA recommends for healthy meals? The answer is yes! Here is a generic meal plan that you can fill in with your Dad's favorite love foods! I have included my meal of choice too!


Meat: Plank-Grilled wild salmon / Homemade salmon sauce (I live in the Pacific Northwest)


Grains: Whole Wheat Couscous Tabouleh filled with cucumbers, tomatoes, green olives, and green peppers and chopped onions, topped with balsamic vinaigrette.


Vegetables: Grilled asparagus which is in season


Fruits: Chopped fruit salad, or a fruit tray


Dessert: Cheesecake
This will be a healthy delicious meal that everyone will enjoy. It is easy, which is a plus. I can have everything made the day before, which is the only way to entertain! Delicious "dude food" that is sure to be loved by all. Let the praise ring out for the Dad's in our lives, and the great meals that we can create to honor them!


---

Great Dad Quotes for Fathers Day


Some of my favorite quotes are about Dads are:


"A father is a guy who has snapshots in his wallet where his money used to be." --Unknown


Exodus 20:12 "Honor your Father and your Mother, so that you may live long in the land the Lord your God is giving you." --The Bible


"Any man can be a Father but it takes someone special to be a Dad" --Anne Geddes


"I don't know who my grandfather was; I am much more concerned to know what his grandson will be." --Abraham Lincoln


"Sometimes the poorest man leaves his children the riches inheritance." --Ruth E, Renkel


"My father gave me the great gift anyone could give another person, he believed in me." --Jim Valvano


"A man knows when he is growing old because he begins to look like his father." --Gabriel Garcia Marquez


"Small boys become big men through the influence of big men who care about small boys." --Anonymous


"I don't care how poor a man is; if he has family, he's rich." --Col. Potter, MASH


"He didn't tell me how to live; he lived, and let me watch him do it." --Clarence Budington Kelland
---

Favorite Memories of My Dad


This is a picture of my Dad in 1954, before I was born. He was known as 1st LT Smith of the 11th Airborne Division in the U.S. Army. He was a pilot and a helicopter pilot and served one year in the Korean War, and did two tours in Vietnam. You can see some flying pictures of him on my Healthy Memorial Day Meals Page.
Favorite Memories of my Dad:


Taking us to the stamp store every Saturday to buy stamps for our collections and helping us put them on pages, and letting us wear our Go-Go boots!


Taking us to Sunday school every Sunday, no excuses allowed, and then to a movie afterwards, and giving us a nickel for a candy bar!


Taking us to the car wash with him every week, and letting us walk through and watch the car being washed, and buying us a soda after!


Wearing ridiculous wigs and being weird at family events! You so know what I am talking about!


Dancing around my bedroom like "King Tut" when I was in high school to wake me up! So not a good way to wake up!


Singing "You can't get them up in the Morning," every single morning of my life!


Bragging about me to everyone who would listen, to my utter embarrassment, but inside I knew he was so proud of me!


Spending the weekends with us when other Dad's did not do that. He was before his time!


Thanks Dad for being a great Dad! I would not trade you!

HAPPY FATHER'S DAY!!
---
Go to Lifestyle Solutions

Return to Meal Planning

Return from Fathers Day to Healthy Holiday Meals

Return from Fathers Day to Healthy Diet Habits Home Page


---