Ham and Bean Soup


I grew up loving ham and bean soup, only it wasn't home made, but Campbell's Bean with Bacon soup! That was the treat in our house, if my mom did not feel like cooking. I cheered her on and begged for it! It was my go to chicken soup when I was sick, along with bean burritos. I grew up and still love it, but not canned!
Now I love healthy recipes and Campbell's additives don't cut it for me. I've made it for years from scratch, but unfortunately my family does not share my same love. While I eat in euphoria, they complain. Needless to say it's a rare treat for me these days! I've tried to make it as Campbell's like as I can. I blend the vegetables with broth and add more vegetables than the canned variety. The only chunks in the soup are the beans and ham. It's comfort food done right!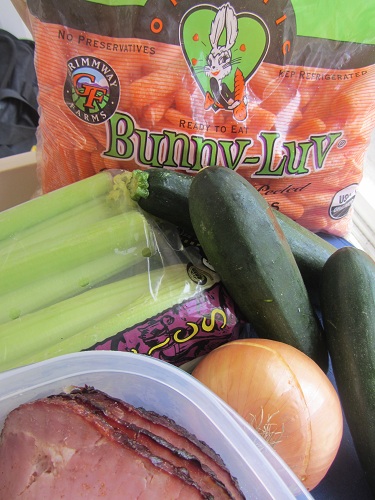 Ham and Bean Soup Ingredients
1 pound white beans

2 large onions

1 pound baby carrots

1 head of celery (organic)

3 large zucchini

1 15 oz. can tomatoes (optional-I do with and without)

2 quarts vegetable broth or use water

½ pound leftover ham cubed (use ham or bacon without additives)

¼ cup prepared garlic

1 t. basil

1 bay leaf

Salt and Pepper to taste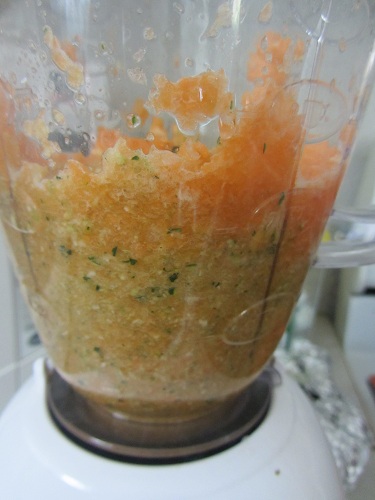 Ham and Bean Soup Directions

Sort and wash beans. Soak beans overnight covered with water at least 2 to 3 inches above the bean level. Drain the water.

Blend the onions, celery, carrots, zucchini and tomatoes in a blender with broth or water. Add to the soup pot. This will usually take 3 or four rounds of blending.

Add the remaining broth, beans, basil and bay leaf, to the pot and bring them to a boil. Cover and reduce heat and simmer them. Make sure they are well covered with the stock by a couple of inches and if not add extra water.

In a skillet, sauté the ham and garlic in a bit of oil until browned. Add to the pot.

Simmer covered for about an hour, until the beans are tender. Check the soup occasionally and stir and add more water if the liquid is low. The amount of liquid in bean soup is hard to calculate exactly, so you need to watch and add more water if needed.

The soup is done when the beans are tender. Salt and pepper to taste. You may not need much salt because ham is salty.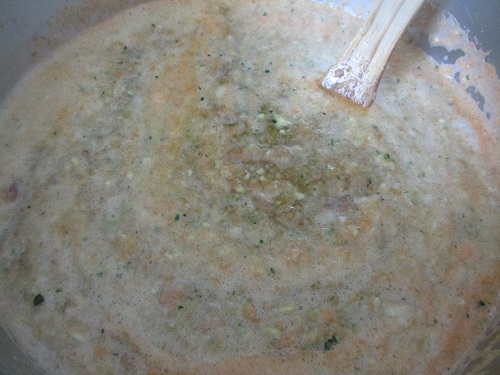 This recipe freezes well. I usually freeze small serving size containers that I can pull out and enjoy for healthy lunches.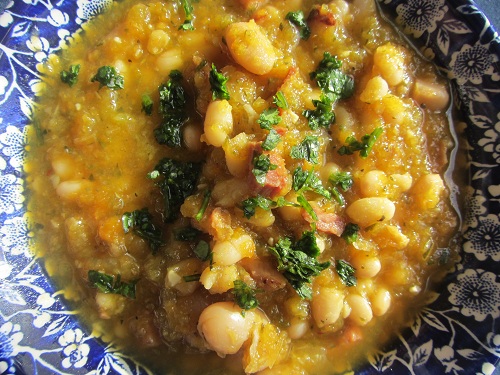 Adding more beans to your diet is a healthy diet habit. They are full of fiber and will keep you full for hours. If you make a simple green salad and corn bread to serve with this healthy soup recipe, you're set! Definitely comfort food done right!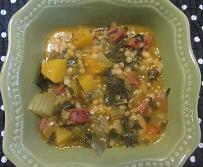 See my 7 Quick & Easy Soup Tips that will help you to prepare healthy soup recipes quickly! From the broth to vegetables, beans, whole grains, and meats. Find shortcuts to help!
---

Facebook - Like This Page?

Facebook - Like This Site?