Simple Hash Recipe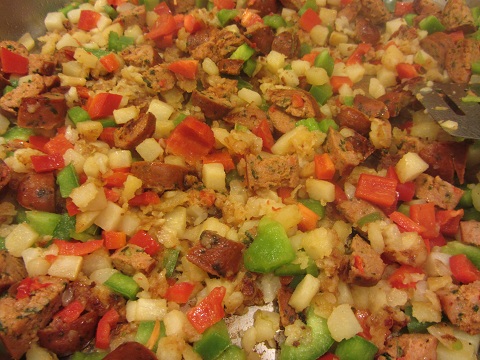 Hash is a one-pan meal that has all ingredients chopped into small pieces and then stir-fried together in a bit of oil. Most recipes include chopped potatoes, a meat/protein choice, and chopped vegetables. They used to be quite common, but you rarely see recipes for them today, which is a shame. They are a great lifestyle solution for many reasons:


Great for getting rid of leftovers



Great for increasing vegetables into your diet



Simple, Easy, and Quick Meal Plan to prepare



They do not require a recipe, just an ability to chop



Can be modified a million different ways to allow creativity



Can be simple with just a few ingredients or include as many ingredients as you need to get rid of



Great for cleaning out your refrigerator of odds and ends before your weekly shopping trip, rather than wasting food



*****
Ingredients for Roasted Red Pepper Hash:


Here is a simple recipe that I prepared this week that was delightful and enjoyed by all!
1 pound package of Roasted red pepper chicken spicy sausages



1 pound package country style potatoes (I was short on time and had a bag of frozen potatoes from my college son moving home)



2 red bell peppers chopped



2 green peppers chopped



---

Directions for Roasted Red Pepper Hash:


Chop all of the ingredients.



Add a small amount of Grape-seed oil (or oil of choice) and stir-fry the potatoes for a few minutes until they start to brown.



Add the sausages and brown them until nicely browned.



Add the chopped peppers. Cook them for only a couple of minutes to leave them crunchy.



Season with salt and pepper.



*****
*I served the meal with a large helping of fresh broccoli and a slice of sour dough garlic bread. This entire meal took less than 20 minutes to prepare, which is a lifestyle solution that I aim for each night. I like simple, quick, healthy meals and this one fits that criteria.
Most of you are busy. You grab pre-done meals that are processed and loaded with chemicals or load the family into the car for fast food. Preparing a hash recipe once a week will offer a quick meal full of fresh vegetables, with no additives. Plan your meat choice and prepare extra meat another night. Chop it and save it for your next meal. Purchase frozen chopped country style potatoes or any grain choice, and even buy pre-chopped vegetables, if you are short for time. Experiment with adding fresh herbs that you love too! Life is about developing healthy diet habits that help you to avoid fast food, and unhealthy processed foods.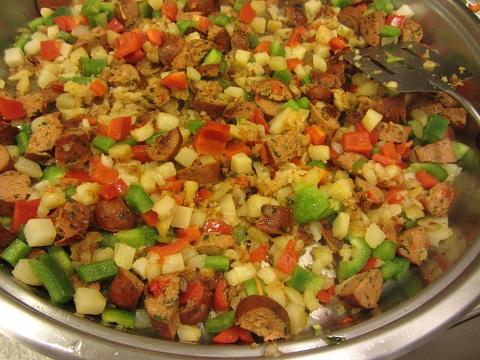 ---
Go to Healthy Diet Habits Tips

Go to Lifestyle Solutions

Go to Meal Planning

Return to Soups and Stews Recipes

Return from Hash to Healthy Diet Habits Home Page


---