Healthy Banana Cake


This healthy banana cake recipe has been one of my favorite dessert recipes since childhood. The original recipe was from Betty Crocker's Cookbook. Unfortunately the ingredients were not that healthy. The original recipe included shortening, which I refuse to use. I substituted coconut oil, which is a healthier choice. The ratio to use is anywhere from 3/4 cup to 1 cup coconut oil, for each cup of shortening. I just used the 3/4 ratio.
I also don't like to use white flour, so I substituted whole wheat pastry flour, which works great! I also reduced the sugar a bit, and as long as you use ripe bananas, it will be plenty sweet. If you want it frosted, vanilla butter frosting works well. I sprinkle walnuts on top of the frosting, rather than adding them to the cake. Using healthier ingredients in your baking is a healthy diet habit to adopt. You can keep sweets in your diet in a portion controlled way.
I work with Young Life, and a group of young adults with disabilities. They love to celebrate birthdays! This is my go to favorite, because it's quick, and I increase the recipe by 1.5 times and bake it in an 11 by 15 pan. Our group is big! I don't feel bad to include a cake with icing as long as I bake it at home, using healthier ingredients, and I serve small serving portions. Life is too short to eliminate all desserts and birthdays are one time when a special treat should be allowed.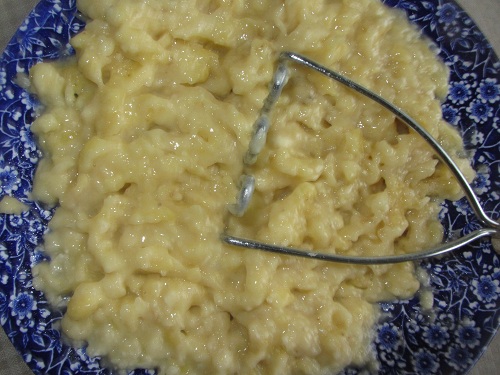 Ingredients in Healthy Banana Cake


2 1/3 cups whole wheat pastry flour

1 1/2 cups sugar

1 1/4 cups mashed bananas (3 medium)

1/2 cup coconut oil

2/3 cup buttermilk

3 organic eggs

1 1/4 teaspoons baking powder

1 1/4 teaspoons baking soda

1 teaspoon salt (optional)

1 cup finely chopped walnuts (I usually just sprinkle these on top of the frosting)
Directions for Healthy Banana Cake


Heat oven to 350 degrees. Grease a 9 by 13 pan.

Beat all ingredients in a large mixing bowl on low speed until mixed. Beat on high speed for 3 minutes.

Pour into pan.

Bake for 45 to 50 minutes until a wooden toothpick inserted in the middle comes out clean.

Cool and Frost
Butter Frosting
3 cups powdered sugar

1/3 cup butter

2 t. vanilla

2 T milk
Mix powdered sugar and butter. Stir in vanilla and milk and bean until frosting is smooth. Spread on top of the cooled cake. Sprinkle with chopped walnuts.
---

Facebook - Like This Page?

Facebook - Like This Site?