Sausage Veggie Pasta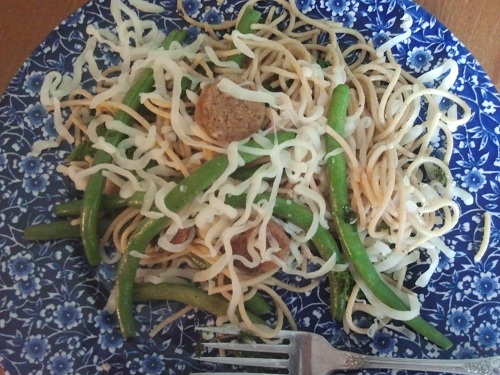 Pasta has gotten a bad rap over the years, but
Sausage Veggie Pasta
will allow you to eat pasta in a portion controlled way, which is a
healthy diet habit!
I've included lots of veggies, which is my favorite
Lifestyle Solution
! It's a meal in one pan and healthy fast food!
*****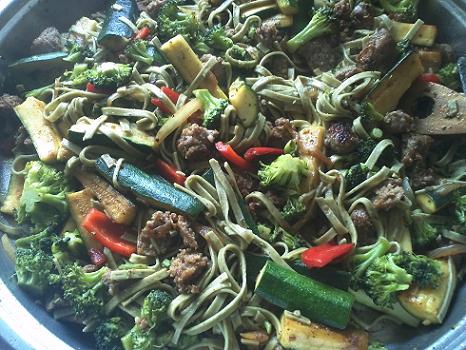 Ingredients
2 onions, sliced


18 oz. beer bratwurst, Italian turkey sausage or vegan spicy or Italian sausage of choice (sliced in 1/2 inch pieces)


1.5 pounds of small zucchini sliced lengthwise in fourths and cut in half


1 sliced red pepper


12 oz bag broccoli florets


8 oz. Linguine pasta (I used spinach/chive from Trader Joe's)


2 T oil


2/3 cup water


Salt/pepper to taste.
Directions
Put a pan of water on to boil to cook the pasta.


Cook the onions and chopped sausage in oil in a skillet, until the onion is browned and the meat is cooked. Remove to a plate.


Add the zucchini and red pepper and 1/3 cup of water and brown until crisp/tender.


Add 1/3 cup water if pan is too dry.


While you are browning the veggies, add the pasta and broccoli to the water and cook them as recommended on the pasta package. They should both be done about the same time.


Drain the pasta/broccoli, and add everything back into the skillet and toss with salt and pepper.


You can add parmesan cheese to the top if you want but it is great plain if you use spicy sausage!
*****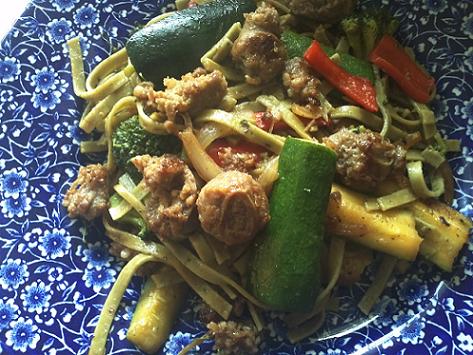 (Serves 4 generous servings) - Enjoy!!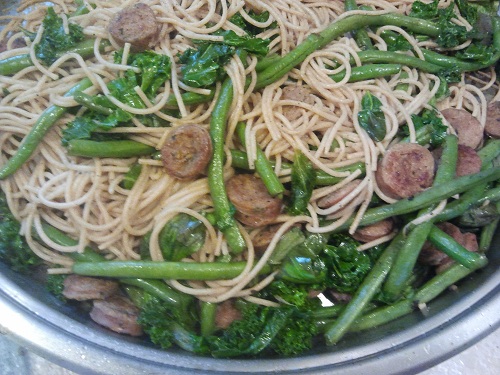 Additional Note:

This is a pasta dish, but it still follows the half plate rule. Half of the dish is veggies, 1/4 is a protein meat choice, and 1/4 is a carbohydrate. We filled our plate, and did not need anything else with it!
One might think bread would be nice with this meal, and it would be, but we try to follow the half plate rule for dinner! Vegetables are very filling.


---
Go to Healthy Recipes

Go to Lifestyle Solutions

Go to Meal Planning

Return to Main Dish Recipes

Return from Sausage Veggie Pasta to Healthy Diet Habits Home Page


---