Vegetarian Spaghetti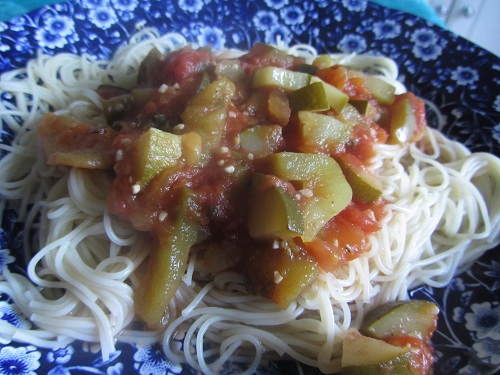 Vegetarian Spaghetti is one of my favorite healthy recipes. It's a wonderful treat for the warmer weather when heavy meals, just don't cut it! You don't have to be vegetarian to enjoy it, and it's a great meal to serve if you have vegetarians coming for dinner. My mom deals with vegetarians and vegans in our family. She is always frustrated, and finds it difficult to cook. Cooking without meat does not need to be difficult. Simply leave the meat out of your loved recipes and fill the void left with extra vegetables, which is a healthy diet habit!
In this recipe, I have substituted oven roasted bell peppers, cubed zucchini, chopped spinach, and fresh chopped tomatoes for the meat. The roasted peppers give the recipe its unique flavor. It is so good that my non-vegetarian family, prefer it to meat sauces and they are all guys! I always provide freshly grated Parmesan cheese for the top, and it's a treat for all!
Ingredients in Vegetarian Spaghetti


1 finely chopped onion

1/4 cup prepared garlic

2 T olive oil

3 to 4 large peppers (I used green and orange)

3 to 4 large tomatoes diced

1 large page of finely chopped spinach

3 to 4 large zucchini sliced and cubed

Chopped fresh basil or 1 t. dried basil

Cooked Spaghetti or Pasta of choice
Directions for Vegetarian Spaghetti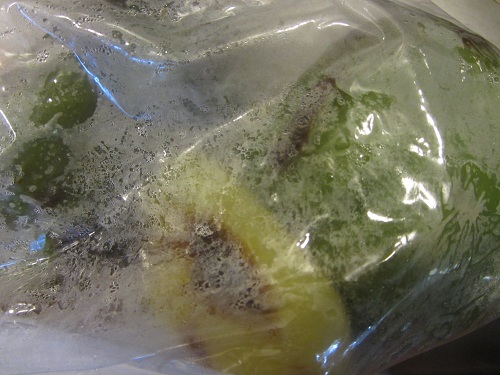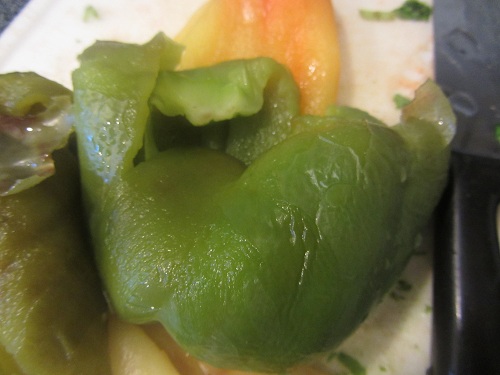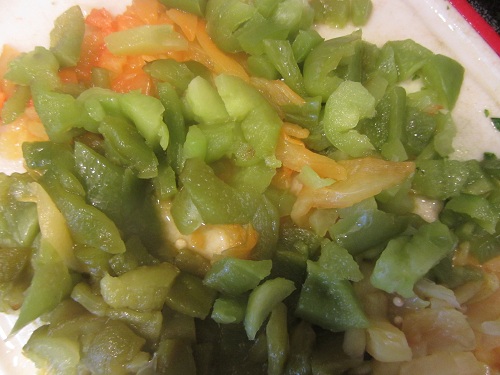 Place washed whole peppers under your broiler. Broil them and turn them as they blacken. When they are fairly dark, remove them from the oven and place in a plastic bag or in a covered bowl for a few minutes. Rinse the skins off. Chop the roasted peppers.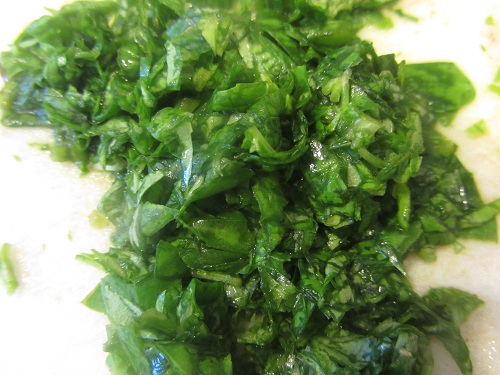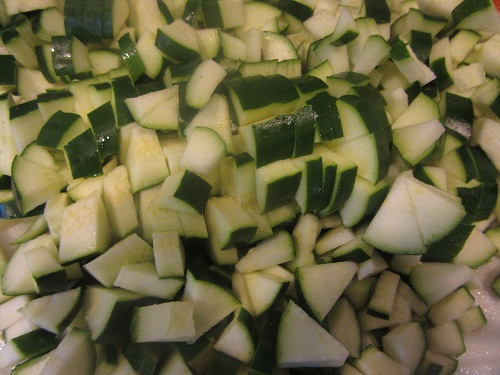 Fry the onion and garlic in the olive oil, until golden brown.
Add the chopped tomatoes and gently stir them for a few minutes, until the tomatoes break down into a sauce.
Add the zucchini, spinach, and roasted red peppers and heat through until the zucchini is still crisp tender.
Add chopped fresh basil to the mix and serve over cooked spaghetti.
Top with grated fresh Parmesan cheese.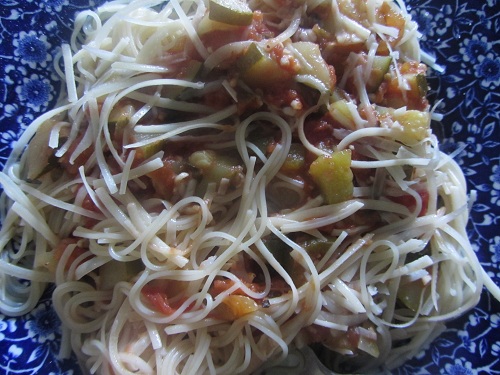 This is a quick dinner that takes under 30 minutes to prepare. Taking the extra time to roast the peppers and including fresh herbs is what gives it great flavor. Trader Joe's sells Basil plants each summer for a reasonable price. One plant can keep you in fresh basil for most of the summer!

If you plant a vegetable garden, you can add any seasonal vegetable choices to the mix. I often add yellow squash to this mix, or baby tomatoes that I simply cut in half. It's all good!
---

Facebook - Like This Page?

Facebook - Like This Site?