Crockpot Chili and Fall Seasonal Vegetables
Crockpot chili and seasonal vegetables is the perfect accompaniment to fall weather! The temperatures are lowering and chili will warm you up! Perfect! It can be a healthy light meal, if you do it right. The healthy diet habit is to use organic beef. Since organic meats are more expensive, I usually add less to make up the difference, or often just make it vegetarian. I have heard no complaints!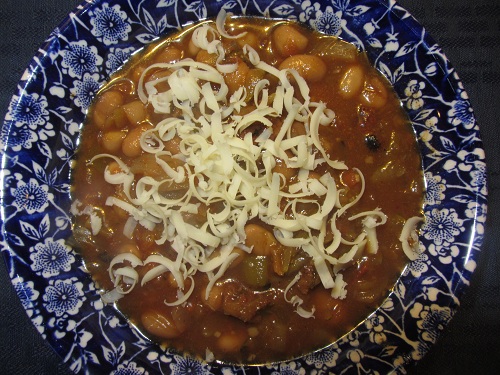 Add as many seasonal veggies as you like, especially greens. Squash are seasonal. If they are in season, I use fresh, if not I use a can of pumpkin puree. It's a bit different, but both are good. Use what you have on hand, and this one will be one of your own healthy recipes!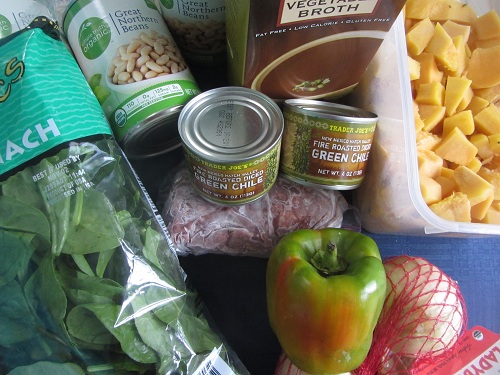 Ingredients for Crockpot Chili and Fall Seasonal Vegetables


1/2 pound organic grass fed ground beef (optional)

1 T grapeseed oil

1 2 chopped onion

3 minced garlic cloves

3 T. cumin

3 T. chili powder

1/4 tsp cayenne pepper (optional)

1 32 oz. containers fat free vegetable broth

2 14 oz. cans chopped tomatoes

1 large chopped red or green pepper

2 cups grated zucchini, chopped spinach, chopped kale, or greens of choice

2 4 oz. can diced green chilies

4 cans white beans drained and rinsed (or your favorite beans)

2 cups cubed squash: acorn squash, butter neck squash, pumpkin (or substitute 1 15 oz can pumpkin puree if not in season)

2 to 4 cups water (2 cups will be more stew, 4 cups will be soup like)

Salt and pepper to taste

1 large bunch chopped cilantro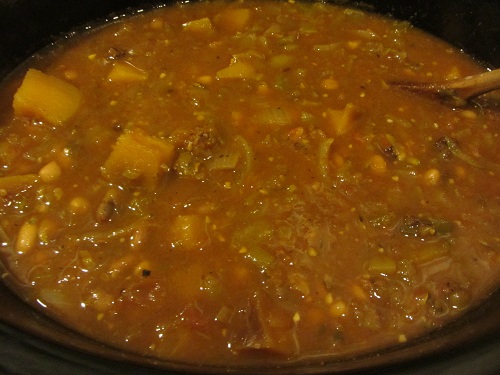 Directions for Crockpot Chili and Fall Seasonal Vegetables


Brown the turkey in a bit of oil. Add it to the crock pot.

Brown the onions and garlic in oil until golden brown. Add in the cumin, chili pepper, and cayenne and sauté it for a minute. Add to crock pot.

Add the rest of the ingredients to the pot, except the cilantro.

Cook on high for 4-5 hours or low 8-10 hours.

Add the cilantro a few minutes before you want to serve the chili.

Add the toppings of choice.
Topping Ideas for Crockpot Chili


Fat free sour cream

Low fat cheese

Baked tortilla chips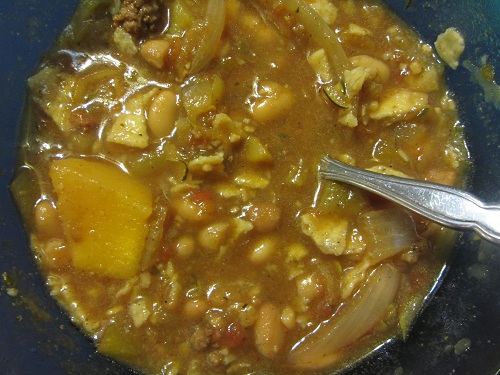 It is a healthy diet habit to try different chili, or stew recipes every week! Work them into your weekly menu plan! They allow you to include many fresh vegetables into your diet. Fill your crock pot, and do a dinner meal. Put the rest of the leftover chili in single serving containers for hearty easy lunch meals for the rest of the week! This will save you time and money, and it's just an easy way to live!

Baked Tortilla Chips


Spread corn tortillas directly on your oven rack.

Spray them with a light mist of spray oil.

Broil them until they are light brown.

Turn them over and repeat the process.

Broil them until they are lightly browned and crispy.

Salt them and crunch them up into small pieces to use for topping.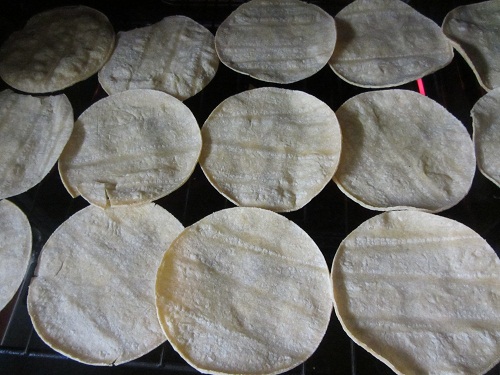 ---

Try one of my Other Chili Recipes!

Enjoy!!
---

Facebook - Like This Page?

Facebook - Like This Site?