Refrigerator Soup
(Vegetarian or Vegan)


Refrigerator Soup is one of my favorite cold weather meals and as the name denotes, an easy way to clean out your fridge. I purchase a huge variety of seasonal vegetables each week, but often end up with a glut of them at the end of the week. When that happens, I simply opt for this healthy soup, rather than searching for healthy soup recipes that may include items I don't have on hand. As you can guess, it's never been the same.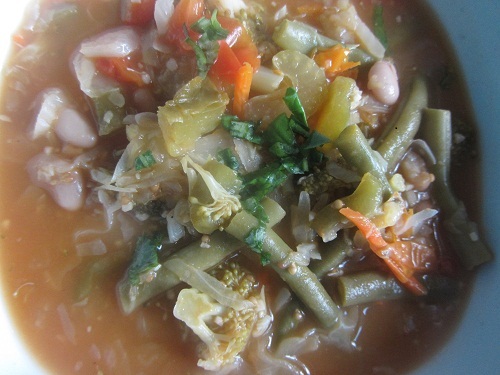 Sometimes I add meat, sometimes a specific type of bean or beans, sometimes I blend all the vegetables if pressed for time, and often I chop them. This week was strictly vegetarian/vegan and it was one of my favorites! Your goal is not to copy my soup recipe, although it was delicious, but to use it as a template to clean out your own refrigerator.

Ingredients in Refrigerator Soup
2 cartons Trader Joe's Vegetable broth (8 cups) or other broth or water combo

2 T olive oil

1 head sliced celery

1 Chopped onion

¼ cup prepared garlic

Sugar plum tomatoes

2 green peppers sliced

Shredded carrots or sliced carrots

Fresh Green Beans

Fresh broccoli cut into bite size pieces

Cabbage chopped

Broccoli Slaw

Spinach chopped

2 cans white beans drained and rinsed

1/4 cup fresh basil chopped or 1 t. dried

Salt and Pepper to taste

Water (if needed)

Directions for Refrigerator Soup


Brown the celery, onions, garlic, baby tomatoes, and green peppers in olive oil.

Add the vegetable broth or combination of broth and water.

Add all of the chopped vegetables, beans, and seasonings.

Bring to boil, reduce heat, cover, and simmer for about 30 minutes, until vegetables are done to your preference.

Fresh herbs can be added during the last five minutes of cooking or to the serving bowls.

If the soup seems too thick, add more water.
Producing healthy recipes is often about experimenting with what "sounds good"! This soup, made weekly, might never taste the same! It could be flavored to taste Mexican by adding chili powder, cumin, and cilantro; Italian by adding fresh basil, oregano and bay leaves; or Mediterranean, by adding cumin, lemon, and parsley or cilantro.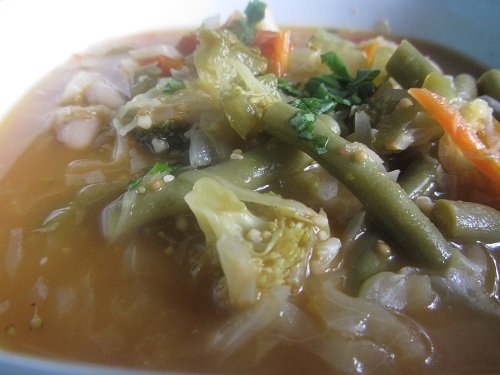 Healthy diet habits do not mean that food should taste bland, so double or triple the amount of spices and herbs that normal recipes call for. Tasty soup is what you are looking to produce! Pair that with a slice of toasted artisan bread and you have a meal and lunch leftovers for the week that are sure to please!
---

Facebook - Like This Page?

Facebook - Like This Site?