Seasonal Vegetable Pasta


Fixing Seasonal Vegetable Pasta is one of my favorite healthy diet habits, and a quick dinner meal of choice, when time is short. That was the case tonight. I opened my refrigerator for inspiration and my entire 29 square food refrigerator was crammed full of seasonal vegetables.
I have snuck in one too many vegetarian meals in the last week, so I pulled out a package of Trader Joe's Spinach, Fontina, and Roasted Garlic Chicken Sausages. They are spicy and good with pasta and vegetables. With that meal plan in mind, I pulled everything out and got to work!

Ingredients in Seasonal Vegetable Pasta


1 12 oz. package chicken sausage of choice sliced in 1/2 inch rounds (Spinach, Fontina, and Roasted garlic)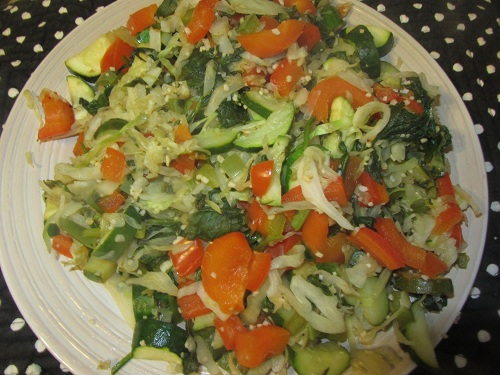 Directions for Seasonal Vegetable Pasta


Chop all the vegetables, except the cauliflower, and add them to a large skillet. Stir fry them for just a few minutes until they are still crisp. Remove them to a platter.
This was a nice dinner that was really colorful. The meal was full of seasonal vegetables, and I loved the cauliflower in the mix. I have never tried that before. You could actually choose different vegetables each time you make this recipe throughout the year.
Shop at your local farmer's market, and purchase vegetables you have not eaten before. You might be surprised that your family will eat vegetables that are paired with their favorite pasta. Don't be timid, or afraid to try unusual vegetables in the mix.
This seasonal vegetable pasta dish made my kitchen smell great, tasted great, and there were a lot of leftovers, because I cooked so many vegetables. Healthy weekly lunches are set for the week. What's not to love!
---

Facebook - Like This Page?

Facebook - Like This Site?