Stir Fry Recipes

Stir fry recipes are delightful, simple to cook, yet so many variations can be made! With one simple set of directions, many different combinations can be made to fill up your weekly meal plan! They fit into a summer plan, because they can be filled with summer veggies, and cooked in an electric skillet, allowing your kitchen to remain cool!
They can also suit those winter months, by being piled on top of your favorite grain, when the cold just makes you want a heavier meal! Whatever the weather, they offer a fun meal for Stir Friday and a great lifestyle solution for healthy eating!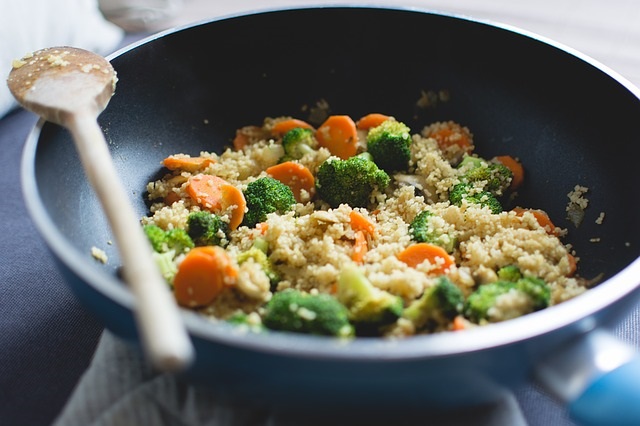 Those of you that are experts know that no recipe is ever the same, but here is a generic recipe that you can modify to your heart's content!
Generic Stir Fry Recipes:


Choose meat of choice and chop it into small cubes:
Chicken, Beef, Pork, Vegan chicken choice, Tofu, or Bratwursts, are all great choices. Add the amount of meat that you like to your pan or electric skillet. I use 1/2 pound to 1 pound of meat for 3 to 4 people. I use a 16 inch electric skillet almost daily. It is one pan that I could not do without! It contains no Teflon! Season the meat with pepper, ginger, or any spice that you love. I like to add more spices than recipes call for. I would add 2 t. of ginger or grate fresh ginger in with your meat. Add 1/4 cup of garlic. You can use the chopped jarred garlic, if you are lazy! Add a small amount of sesame oil and stir fry the meat for a few minutes, until it is done. Remove meat from your pan.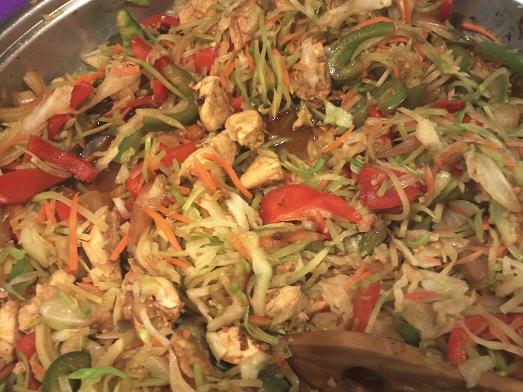 Choose vegetable choices and chop them into small cubes:
Great choices are sliced onions, sliced different colored peppers, diced celery, cabbage, carrots, zucchini, summer squash, broccoli, broccoli slaw, asparagus, green beans, really any veggie you love will do! Many times I simply pull all of my veggies out of the refrigerator and choose several that seem like they will go together! Sometimes I choose all of them and sometimes just a couple. Chop all veggies separately into bite size pieces. I always stir fry each veggie separately! This is the first secret to great stir fry success, because each veggie cooks differently.
Add each veggie to the pan, and add a small amount of water (1/4 to 1/2 cup), rather than more oil. This allows you to avoid calories. Cook each of your veggie types until they are still crispy, and then remove each to a bowl. Next, next, next, until you are done cooking all of your choices. This takes a bit longer, but mushy vegetables are revolting, and none cook exactly the same!
Choose Sauce and Herbs:
When all of your meat and veggies are done, add everything back into the pan and reheat for a couple of minutes. Add either a pre-made sauce like any of Yoshida's sauces, or add a bit of low salt soy sauce and water. I actually just love the taste of the veggies and no sauce. Add in chopped fresh herbs at this point. This is the second secret to great stir fry success. Fresh Herbs! Cilantro and Basil are delicious, but any herb can work. Try them all and pick your favorite. Mix it all up and heat through.
Serve over your choice of any cooked whole grain:
Serve with brown rice, whole wheat noodles, quinoa, couscous, or just plain with a side salad and crusty bread! I often add some fresh Yakisoba noodles with the herbs and heat them through for even more variety.
*****
One helpful tip:
Use the half plate rule when cooking stir fry recipes to make sure that your proportions are correct. Half of your stir fry should be vegetables, one quarter should be your protein choice, and one quarter your grain choice! Done this way they are a healthy diet habit and beloved dude food too! You can cook huge quantities, for large eaters, for a cheap calorie price! You will be well on your way to adding in all of those extra veggies that you need daily in your quest for healthy eating!
---

My Favorite Stir Fry Recipes:


| | |
| --- | --- |
| | This vegetarian cabbage stir fry recipe is one of my go to favorite healthy recipes when I don't have a lot of time and don't feel like meat! Great Meatless Monday Idea! |
---
| | |
| --- | --- |
| | This chicken and zucchini stir fry is one that can be filled with as many seasonal vegetables of your choice! It's delicious and quick when time is short! |
---
Chicken Stir Fry with Cabbage, Broccoli Slaw and Red and Green Peppers

This chicken stir fry is a vegetable filled treat that can be made in 20 minutes or less! Add your favorite seasonal vegetables or what's on sale and this meal will never look the same! Yummy!




---
Chicken Stir Fry Recipe with Cauliflower and Broccoli

This chicken stir fry recipe is simple and delicious. It uses fresh vegetables, fresh herbs and is served over black rice which is an heirloom rice and delicious!




---



Ham and Cabbage Stir Fry

This ham and cabbage recipe is a quick meal that is a great way to re-purpose leftovers! Prepare a healthy grain and sliced fruit and you have got a healthy meal in minutes!

---
| | |
| --- | --- |
| | A hash is a one-pan meal that has all ingredients chopped into small pieces and then stir-fried! They are a quick healthy fix for dinner! Roasted Red Pepper Hash recipe too! |
---
Italian Sausage Stir Fry Recipes with Cauliflower and Green Beans or Romano Beans and Kale

Italian sausage recipes are an excellent plan for a quick meal choice. Paired with your favorite vegetables, they make an awesome stir fry combination that is sure to please even picky eaters!




---



Pepper Steak Stir Fry

Pepper Steak is an old time dinner recipe that will warm your insides. This is an easy one pot meal full of vegetables!







---
Pork Stir Fry Recipe with Cabbage, Broccoli Slaw, and Carrots

This pork stir fry recipe is a quick and easy meal that can be prepared in less than 15 minutes. That's easier than getting the family out to fast food and it's a whole lot healthier!

---
Simple Stir Fry with Chicken, Brussels sprouts, and Green Beans

A simple stir fry is one that you choose two vegetables and one meat and a prepared sauce. It's easy to whip out in less than 15 minutes for a quick meal!




---
| | |
| --- | --- |
| | Yakisoba is a type of Japanese noodle recipe that includes stir fried meat, vegetables, and soba noodles. This recipe is full of chicken, green beans, cabbage, and grated carrots. |
---

Facebook - Like This Page?

Facebook - Like This Site?