Healthy Breakfast Recipes


Having a collection of great breakfast recipes is a healthy diet habit that can help you start your day with a health, rather than grabbing a caloric diet bomb from your local coffee shop. Breakfast fuels your metabolism and is the most important meal of the day. Yet many of you skip it, because of lack of hunger, feeling sick, bloated, or lacking the time to fix a meal.
The typical breakfast choices of juice, bagels, sweetened cereals, donuts, muffins, or your usual high carbohydrate choice, can leave you feeling sluggish, shaky, irritable, and unable to concentrate.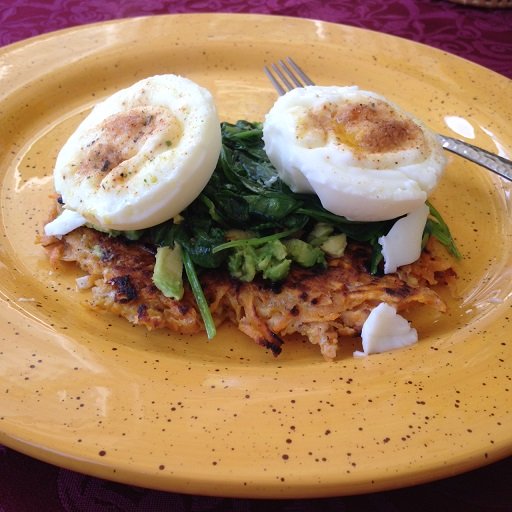 Pictured Above: Poached Eggs Over Sweet Potato Hashbrowns with Avocado and Sauteed Spinach
Healthy breakfast recipes and meal choices should contain protein, whole grains, and fresh fruits and vegetables that contain fiber. The combination will keep your blood sugar even and you won't feel hungry until lunch. It does not have to be a fancy recipe, but could be as simple as plain Greek yogurt mixed with fresh fruit and slivered almonds or steel cut oatmeal with dried fruit and walnuts. Leftovers can also play a huge part in your breakfast routine. Extra cooked vegetables from last night's dinner can add lots of pizzazz to a couple of eggs.
Weekend planning can simplify breakfast too. It's simple and quick to produce a couple of pans of healthy granola that you can eat all week. Bake eggs with bacon and vegetables in muffin tins and reheat them or a breakfast casserole on Sunday that can be reheated for most of the following week. I've also produced whole grain pancakes or waffles on the weekend and simply cooked a whole lot extra and frozen them to be reheated in the toaster at a later date. There are so many breakfast ideas that can add health to your life and save you time and money as well.
Breakfast does not need to be traditional. Many cultures eat dinner leftovers for breakfast. That is perfectly acceptable. I grew up in Australia and a common breakfast choice was spaghetti or baked beans on toast. That is healthier than grabbing a box of sugar sweetened cereal to start the day. Please take the time to collect a few healthy breakfast recipes to add to your collection and start the day feeling well, rather than lethargic! That's a great lifestyle solution to pursue!
---

My Favorite Breakfast Recipes:


I will include more recipes as I make them and take pictures.
Apple Muffins Recipe

Apple Muffins seem like Fall to me! The healthier ingredients contain more fiber which will keep you full until lunch! Healthy Baking allows you to keep treats in your diet!
---
Blueberry Breakfast Cake Recipe

This blueberry breakfast cake is a winner if you enjoy hearty baked goods! It is not super sweet, and will keep you satisfied through to lunch, especially if you pair it with an egg or yogurt, and a piece of fruit.
---
---
Breakfast Casserole Recipe

This egg dish includes eggs, cheese, bacon, green chilies, and hash browns. It is a simple generic recipe and you can add the choices that you love.
---
---
---
Healthy Blueberry Muffins Recipe

These healthy blueberry muffins include egg whites, low fat buttermilk, whole wheat pastry flour, flax seeds, blueberries, and nuts. Healthy recipes should include healthy ingredients!
---
Healthy Granola Recipe

This is a generic granola recipe where you add 6 cups of oatmeal and 6 cups of other stuff of your choice. I have lightened the sauce as much as possible and given my favorite 6 cups of extras. It's great and I can't keep it in my house.
---
---
---
Pumpkin Granola Recipe

Pumpkin Granola is a healthy breakfast choice that uses 6 cups of oatmeal and 6 cups of other goodies and a maple and pumpkins sauce! Great Christmas idea for friends!
---
Share YOUR Breakfast Recipes:

Please share your healthy breakfast recipes below. If your family loves a recipe that is healthy, others will enjoy it too!
If there is a way to make your recipe healthier by making substitutions, then I will make suggestions when I review YOUR recipe! Your Recipe will be turned into it's own web page on our site, and your friends, family, and other visitors to our site, can make comments, and review your recipe.
Please Note: If I feel that a recipe is not healthy, and if I can't think of a way to make substitutions to make it into a healthy recipe, it will not be included. Thanks so much! 
Have A Great Healthy Breakfast Recipe To Share?
Do you have a great healthy breakfast recipe to share?

Share it!



---
---

Facebook - Like This Page?

Facebook - Like This Site?