Acorn Squash Soup with Sausage and Kale


I have no acorn squash soup recipes in my healthy recipes collection, but every fall I see mounds of these large green squash for sale. They intrigue me. I bought them last year and baked them with butter, brown sugar and cinnamon. I was not a big fan because I don't love sweets. I bought two this year and they waited patiently in my refrigerator for inspiration to hit.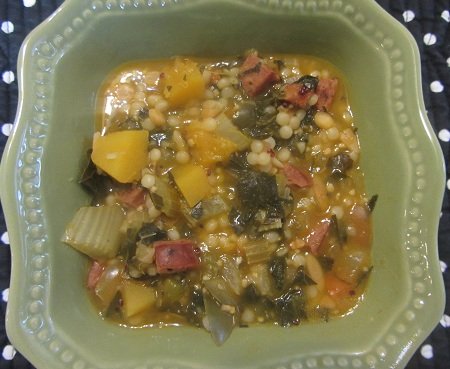 Since the weather turned cold and rainy, I decided a new healthy soup recipe, or stew recipe was in order. I had the squash, some kale that I had cleaned already, and a few other vegetables I needed to clean out of my refrigerator. I usually try to make a pot of soup each Monday to use up my remaining produce before shopping, to use for my Monday night meal, and for several days of lunch leftovers. Simple, cheap, thrifty, and a healthy diet habit to practice weekly!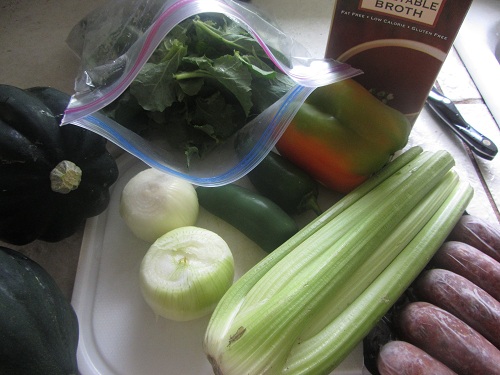 Ingredients for Acorn Squash Soup


1 T oil of choice

1 large onion chopped (1 cup)

¼ cup of prepared garlic or several cloves chopped

2 cups of chopped celery (one small bunch)

1 chopped green bell pepper (1 cup)

2 jalapenos chopped

1 T grated fresh ginger or 1 t. ginger

4 sausages (preferably organic ones without nitrates) (I used chicken ones with chilies)

1 32 ounce container low sodium vegetable broth (Trader Joe's)

3 cups (1 medium) choice of orange squash (acorn, pumpkin, butternut…) skinned and chopped

1 large bunch of organic kale chopped (3 cups)

4 -6 cups water

1 cup Trader Joe's Harvest grains or grain or rice of choice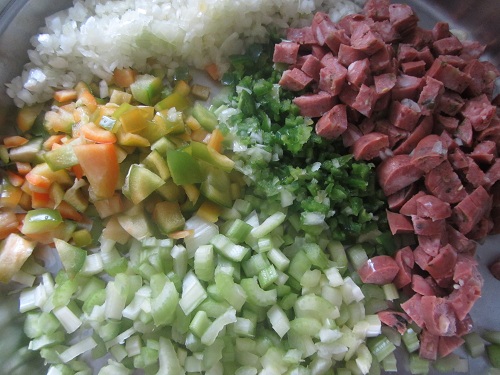 Directions for Acorn Squash Soup


Add first 8 ingredients to a large skillet and brown in oil.

Cut one acorn squash in half, spoon out the seeds and strings.

Heat a large pot of water to boiling.

Drop the halved acorn squash into the boiling water and boil for 3 minutes to soften the skin for peeling.

Peel the squash and chop them into small chunks, approximate 1/2 inch square or so.

Poor the water out of the large pan and rinse it out.

Add the stir fried vegetables and sausage mix to the large pot.

Add vegetable broth and chopped acorn squash, kale, harvest grains and water

Simmer about 15 minutes or until vegetables and grains are tender.

This is really more of a stew, if you add 4 cups of water. If you prefer soup, add 6 cups of water or more to your liking.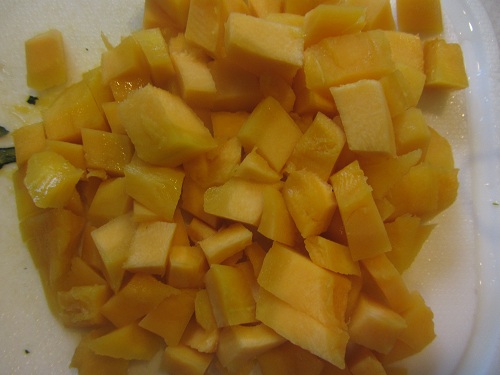 This acorn squash soup turned out great, although I am unsure if it should be called a soup or a stew. It was thick and you would never know that it was a creation to clean out my refrigerator. The jalapeno gave it the zip to bring it to extraordinary. You could vary it to suit your tastes. This will be one of my go to healthy recipes for fall season. I paired it with a piece of rustic bread, and half of a large organic apple for dessert. It was a happy meal!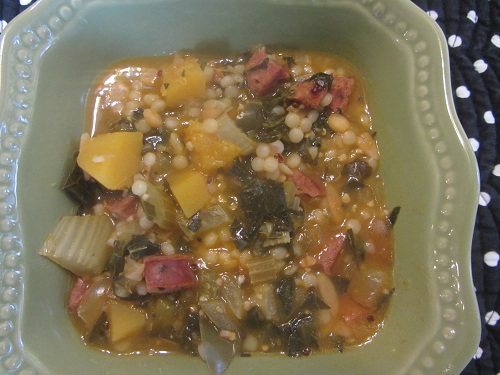 Extra Tips for Acorn Squash Soup


Substitute beans for the sausage, if you want the meal to be vegetarian/vegan, or use both. I would use small white beans, but your choice.
Add black rice. You would need to cook it first because it takes longer to cook than the soup. I usually cook a massive pot and freeze it in small portions.
Substitute in any other vegetables that you think would work. I think peas would work well. Use a small bag of petite peas.
We add no salt to our cooking for health reasons, but a little salt would work.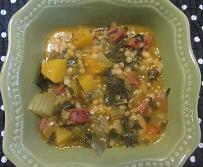 See my 7 Quick & Easy Soup Tips that will help you to prepare healthy soup recipes quickly! From the broth to vegetables, beans, whole grains, and meats. Find shortcuts to help!
---

Facebook - Like This Page?

Facebook - Like This Site?