Healthy Breastfeeding
Healthy Breastfeeding or Bottle Feeding? Which is best?
Your baby will be receiving all of their nutrition from you, or the bottle, for the first 4 to 6 months of their life. This decision must work for your family! If you decide on nursing, you must be available for your baby as hunger strikes, or be able to pump extra milk! Look at all of your logistics, talk with friends, and make a healthy informed decision that works for you!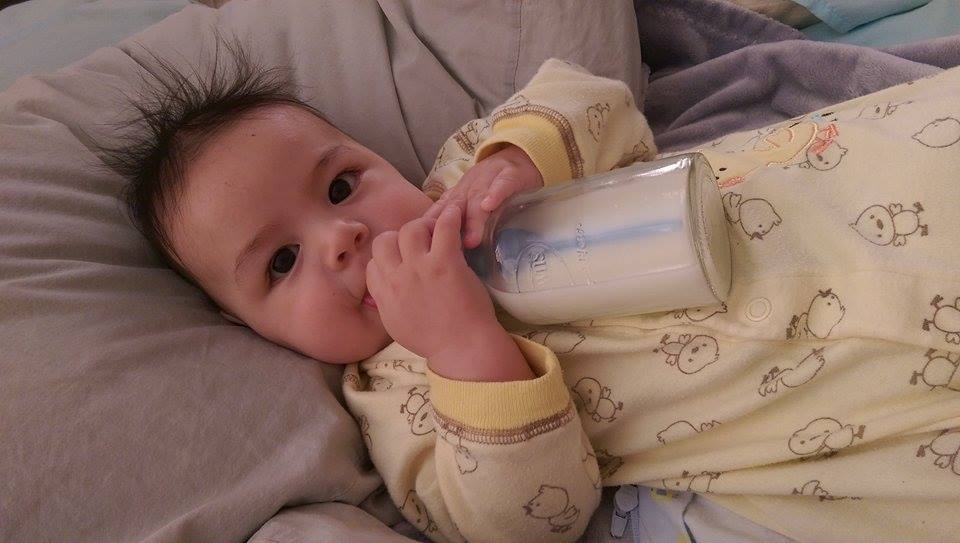 Even though Eli (above) is drinking from a bottle, it is mother's milk that was pumped while his Mom was at work, and frozen to then be unthawed and used when she was at work.
The Main Benefits of Healthy Breastfeeding
Ease




Convenience




Cost




Bonding




Nutrition
Try it!
If you decide on bottle feeding, make sure you choose a formula that is not laden with sugar. Many of the baby formulas are in essence baby milk shakes that will introduce your baby to sugar at an early age, and start them on their path to obesity!
The healthy diet habit is to try breastfeeding first, before you decide on bottle feeding your baby. Either choice can work, so there is no guilt or shame involved. Your baby is a blessing, and bonding can take place either way.
Nursing babies are affected by what you eat and drink. Do not diet to lose your pregnancy weight. Eat nutritious healthy meals, practice healthy diet habits at all times, and avoid all alcohol, if you choose to nurse! If you drink, your baby drinks!
A nursing mother will need to eat between, 300 to 500 extra calories per day. This would be 2 healthy snacks per day that are around 150 to 250 calories each. Be in tune with your hunger and eat for your health, as well as your babies!

Nursing and Colic
Many babies face colic and this can be worsened by foods that you eat. The big offenders are milk products, tomato and citrus products, foods that cause gas, and spicy foods. If your baby cries often, try deleting these foods from your diet. If deleting these foods does not seem to help, keep a food journal, and you may be able to spot foods that cause your baby discomfort! Check with your pediatrician if your baby has colic, and develop a plan together.
Your baby will nurse or bottle feed for the first year of their life or more, so this is a big decision.


---

Facebook - Like This Page?

Facebook - Like This Site?